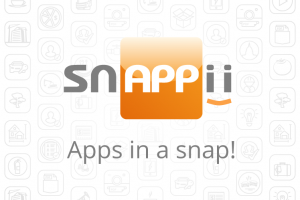 Snappii and Social Foundry have teamed up to solve this problem. Now mobile mobile business apps that access corporate databases can literally be created in days  instead of months.
We are living in the mobile age when mobile technology is transforming the way we work, shop and socialize.  The number of connected devices today outnumbers the people living on the planet and this trend is said to continue. Tablets and smartphones have become ubiquitous in our daily lives. That is why the ability to produce high quality mobile applications quickly is becoming more and more important.
The traditional mobile application development process typically involves coding, using of SDKs (Software Development Kits) and Frameworks. As global appetite for mobile application increases, companies are turning toward full software development platforms that enable rapid design, creation, integration and deployment of mobile mobile business apps that satisfy both internal and external business requirements.
Together with the rapid development of everything mobile, the number of complementary services that support mobile initiatives is also expected to grow.  This will mainly apply to the integration points that are required to support businesses adopting mobile strategies.
If your mobile application requires you to access data in your systems of record, you are going to need a web service layer to properly broker the transactions between your app and your corporate database. Today REST based web services allow companies to integrate with the corporate databases faster than ever before (provided they have the right tools to do so).
A good mobile development platform should have the ability to interact with web services so that connecting your mobile application can be done not only quickly and easily, but also in a secure, monitored, and scalable manner.
Using tools to develop, deploy, and integrate your mobile application are becoming the norm as organizations simply cannot find the right talent, budget, and time to meet this ever-increasing demand.  Together, Social Foundry and Snappii have solved all of these mobile challenges.
Social Foundry announces its brand new technology allowing easy and fast database integration – the SOAPbox. The SOAPbox is software that is designed to expose database operations via web services. It allows to:
–  access data in corporate databases behind the Firewall with no programming at all;
– automatically generate web services into Oracle, MS SQL and other databases;
– generate a data connector for mobile mobile business apps created by Snappii without any coding;
– allows your business to benefit from mobile mobile business apps created with Snappii and integrate with corporate databases using the SOAPbox software as these mobile mobile business apps can be built in just a few days and less expensively;
As a result, using Snappii and the SOAPbox together significantly reduces the cost and time of typical integration projects and mobile app development by removing the complexity associated with creating internet facing APIs (Application Program Interfaces) and writing code.  
Integration of your mobile Apps now is as easy as 1,2,3.
Step 1: Integrate
Using the SOAPBox, you can build REST or SOAP based web services with a click of a button.  The SOAPbox allows organizations to 'web service enable' their database assets. No special web service coding is needed. If you know standard SQL or have existing stored procedures, you can build the web services required for a mobile project. The SOAPBox creates secure, scalable, cost effective web services quickly.
Step 2: Upload
The SOAPBox will collate all of the web services needed for a mobile project and automatically create and download a web service registry to the user's desktop. Once downloaded, simply upload this registry into Snappii. Once uploaded, Snappii can access these web services out of the box. You are now ready to build the UI and Business Logic.
Step 3: Build!
One you have uploaded the registry, you can now drag and drop the information onto the Snappii canvas and create iPhone, Andriod, Tablet, or generic HTML5 applications based on your data.
There is no need to use expensive middle-ware platforms or fragmented integration projects anymore. Simple and easy to use, Snappii and the SOAPbox allow for the creation of sophisticated, feature-rich custom mobile business apps integrated with back-end systems and databases sitting behind the Firewall.
It is a win-win relationship for both companies: Snappii generates mobile mobile business apps and Social Foundry takes care of accessing corporate databases.
Sound interesting to you? We are offering a free trial to all interested organizations!