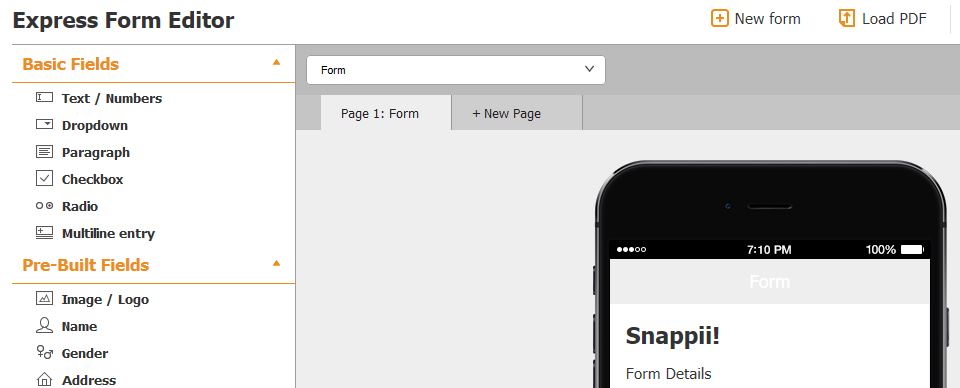 Companies are getting savvy to the idea of creating an app editing platform that will allow users to easily customize any app built on their platform. It does not matter if it's a small change, or one that's going to evolve the entire dynamic of an app, these platforms give normal users without any coding experience similar accessibility to those who have been programming for years.
This gives you the ability to chose exactly how you want your app to appear, function, and eventually, optimize your business. Apps can accomplish this in a multitude of ways, from cutting the communication time between employees, to using voice notes to capture information rather than having an employee input something manually. And that's just scratching the surface.
Snappii is an app company that has streamlined the process of creating an app. Using the Snappii Labs platform, any user can enter the editor and put together a mobile app that meets their exact specifications without ever having to communicate with a developer or programmer. The program works by giving you the building blocks to put together an app, all you have to do is figure out how you want things to look. It's like drawing your app rather than coding it. For a free trial, check out our Snappii Labs page.
Over the past few weeks, we've been seeing more and more people favor the form editor within the platform. While we receive a lot of praise for the simplicity of our form editor, many of our users began to get stuck in the actual app editor. Though they are similar, users found that the bulk of their work was done inside the form editor. This prompted us to make some changes to our system.
For the next few weeks, Snappii's app editor will be down. We're going to give it a complete face-lift that will hopefully shine a better light on all the amazing functionality you can create within our platform. In the meantime, we've left the form editor open so users can still go in and edit the forms they have already created.
While the editor won't be available for a little while, there's still two major perks to us taking it down for a while:
Even faster apps:
Because our users won't have to go through the process of developing the entire app, it will be much easier to start and complete a form. After entering the Lab, it will automatically take you into our form editor page. From there, you can create, modify and publish the app without ever having to see the original app editor.
This will cut the amount of time needed to complete an app, and make the process less confusing in the long-run. Since there's only one screen you need to focus on, making a form is just like snapping pieces of a puzzle together. If you don't want to make a custom form, you always have the option of uploading a PDF and moving fields to their corresponding areas. This alone can save you a massive amount of time, plus you can keep the same form factor you're used to, the only difference being the digital interface rather then a pen.
Visual Overhaul:
We have big plans in store for our Express and Guru editor, the biggest of which is a visual overhaul of the system. As of now, even our Express Editor, whose intention was to be an easier version of Guru, has shown itself to be a bit too complicated in terms of the average user. It feels clunky, and the actual aesthetics of it could use some work.
When we do re-release our editor, we promise to hold it to the same standard that you're used to with Snappii – we want you to be able to make apps in a snap. We plan to keep that promise.
If you want to try out our form editor, click this link to head over to the Snappii Lab page for an introduction on how the system works, and how to get started. Remember, Snappii offers a free 14-day-trial, so you lose nothing for trying us out!