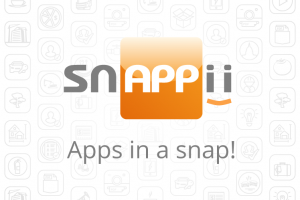 In its latest release Snappii has announced lots of new features that would further help making mobile mobile business apps more professional. Today let's stop at Gallery Layout feature. Using the Image Gallery Layout feature, Snappii users can create professional looking mobile mobile business apps using many visual layouts, such as horizontal view, grid view and split view. Using images rather than textual lists users can create more visually appealing applications for use cases requiring a more visual approach.
Some examples of mobile business apps that require a more visual approach are product catalogs, real estate listings, auto dealership listings, oil and gas mobile business apps for visualization, inspection mobile business apps just to name a few.
To create a product catalog using the Gallery Layout, Snappii users need to follow 4 simple steps:
Upload a spreadsheet that contains information about the products, links to images and description, etc. into the Datasource dialog.
Drag and Drop Gallery Layout tab or button, select datasource
Set up Gallery type (Horizontal, Grid or Split) and Gallery view
Test on a device
The product catalog is ready.
Now we need to add the ability to order items from it. As an option, I added Share button on the Gallery Cell view. The Share button allows choosing items from the Gallery and sending them via Email. So, in my case, app users will click the Share button that I renamed to "Order" and notify me via email about the item they want to order from me. Make sure that there's a "Sharing enabled" option checked for the image.
Other than that, the Share button can:
–    Post to Facebook
–    Post to Twitter
–    Post to Weibo
–    SMS
–    Email
–    Print
–    Copy to Board
–    Assign to Contact
–    Save to Camera roll
–    Always attach screen shot
I used Email mode, and specified the message "I want to Order this item" that will go to my email address with the Product Image.
If you don't want to hire expensive developers you will surely like the idea on building an app using Snappii platform. Snappii WYSIWYG editor allows making custom and flexible native mobile application without programming skills and quickly. Just check our website to figure out how to create mobile business apps on your own and make your business succeed. Additionally Snappii Mobile App Designers can leverage the platform to offer clients full service custom app development.