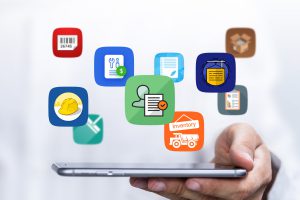 COVID-19 has pulled BYOD (Bring-Your-Own Device) into a regular work mode in most companies in 2021. We all know the reasons for it; let's turn to most stunning BYOD stats for 2021 by TechJury.
Check out this inforgaphics to learn more

What is good for the businesses is that using mobile business apps, employees can do more, and spend the time effectively. Custom business apps allow employees to do a huge variety of tasks:
Daily reports
Inspections and audits
Estimates and work orders
Warehouse management
Invoices, bills, receipts
And more
Snappii has created a platform that allows building custom business apps in a matter of days vs. months if you hire a mobile app developer. Taking this codeless app development approach, creating a business mobile app is fast and affordable. We have already helped hundreds of companies to go mobile, request your custom mobile app quote here. Improve collaboration between the team and the office, speed up project estimation and invoicing, track tasks statuses with a mobile app, collect daily reports from employees in a snap, save time and money, and of course, eliminate face-to-face interactions and driving to the office! Adopt BYOD to your business and leverage the results. Contact us with your requirements here.