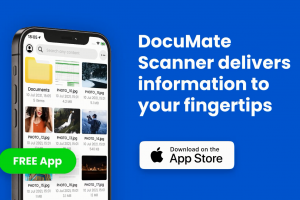 Hope you had wonderful summer, and are full of energy to meet Autumn. We at Snappii have worked hard to introduce you to a completely new app that will help you find your photos, documents, and other information in seconds – the DocuMate Scanner app. See a quick demo of the app here.
See for yourself the super useful  features we offer:
*Scan anything from anything*
Use your phone camera to scan invoices, receipts, notes, photos, business cards, certificates, documents, labels, whiteboards, etc. You can also import from local and cloud drives.
*Sign, Initial or Stamp documents*
Use the built-in sign feature to place a signature, initials, or stamps on documents and share or print them in seconds.
*Capture*
Screenshots, photos, email attachments and share them right into DocuMate Scanner so that you can instantly find them when needed.
*Instant Smart search*
Find Photos and Documents in seconds. DocuMate Scanner uses AI (Artificial Intelligence) to understand what ís in the pictures and can find any text. No more scrolling your image gallery endlessly to find photos or browsing cloud drives! You can easily find your scans, screenshots, documents, photos with just a few letters.
*Make PDF Reports and Share*
Easily create PDF files from scanned documents, photos, screenshots, etc., and share PDFs via texting, email, etc.
*Secure content*
Assign PIN code to the entire app or protect individual documents and photos.
*Mark up with text and arrows*
A great way to draw attention to a specific area.
*One-touch call or message phone numbers*
Touch a phone number in any picture or document and instantly text or dial the number.
*Extract and copy*
Touch a section of the document you need and copy to another app, search the web, or share.
What users are saying:
"I use this App every day"
"Saves me a ton of time"
"It's my office on the go"
"I wish my co-workers had it!"
The DocuMate Scanner app will save you many hours of work. Your productivity will go through the roof!! The DocuMate Scanner app is available for free download from the Apple app store here.