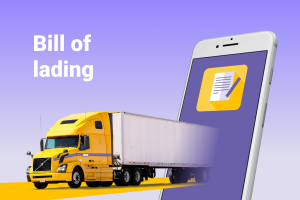 Surprisingly, but in the second decade of the 21st century a bill of lading still exists on paper. In our previous blogs, we have discussed the necessity of switching business operations from paper to digital format. In short, mobile apps are safe to use, they reduce data input errors, improve collaboration between the field and the office, speed up decision making, and minimize the time spent on daily reports.
Today, transportation companies are looking at digital bills of lading as the means of accelerating invoicing processes. Indeed, once created, a bill of lading will do lots of things:
provide understandable and readable information about items
collect proof of delivery signatures
calculate total hours and costs
invoice customers immediately and get paid faster.
Paper documents can never achieve this potential and improve the workflow. Paper forms are difficult to maintain. First thing to deal with is illegible handwriting. Drivers can be inaccurate which results in mistakes once the office retypes the information from paper bill of lading into the computer. Not only does it take time, but also results in errors. Which later cost your company money.
The second major issue is timing. Often after completing a job, the driver heads onto the next job and there's no way to bring the paper bill of lading to the office. It means that the company waits for days or weeks when the driver gets back so they could invoice the customer.
The last but not leas issue is vehicle inspections. Drivers need to make sure the vehicle is safe and is DOT compliant, and in case of the accident, be able to provide all the documentation regarding latest inspections. With paper inspections, it can be dangerous: paper gets damaged easily, it gets lost or forgotten as well. Having inspections on a mobile device, drivers can be sure that the they have access to them 24/7.
Snappii has created its mobile apps to cover these cases. The Bill of Lading Manager app is a perfect tool to create electronic bills of lading, get proof of delivery and send invoices to the customers. The Vehicle Inspection app is a pocket tool to perform regular inspections and access them anytime from anywhere. The Snappii team of professionals can show you all the benefits your company will gain with the mobile app. The majority of our apps are customized to specific needs of a business. Let's schedule a quick demo.