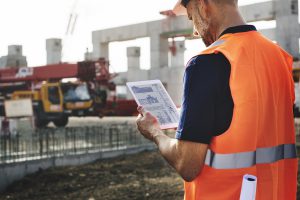 The construction businesses are facing a number of pressures to decrease costs, improve productivity and provide a high level of quality and customer satisfaction. Recent achievements in mobile technology provide new ways for addressing these pressures.
Mobile apps for construction
Mobile apps for construction allow contractors, service companies, salespeople and estimators to create on-site estimates for projects. Aside from improving the companies' efficiency, the apps for construction speed up project estimation, eliminate paperwork, save time and money on data collection and storage. Mobile devices enable a user to store data in one place, minimizing possible mistakes that come from entering data twice. Project details can be accessed anytime from anywhere, allowing teams to centralize their database and keep everyone on the same page. Here are some benefits from using mobile construction apps:
Improve collaboration in the Field and between the Field and the Office
Quickly Replace Exiting Paper Forms with Digital Forms
Increase productivity and profits
Speed up decision making
Improve customer satisfaction
Mobile Apps for Construction cover all aspects of Construction: People, Equipment and Inventory.
Improve productivity
Mobile construction apps help improve teams productivity. No need to travel from the office to a construction site to sign documents or assign tasks or check job completion status. Everything can be managed via a mobile app. That is convenient and easy to use. All aspects of construction that require documentation can be replaced with one mobile app.
Control safety
Safety on a construction site is key to successful operations. Making sure the equipment is functioning properly and the environment is secure minimizes safety risks. Mobile apps come into rescue here as well. They help conduct various inspections and safety reports.
Mobile construction apps from Snappii
Snappii is a leading provider of feature-rich mobile construction apps. We are ready to offer mobile solutions for plenty of fields. Snappii's construction apps help managers reduce dependence on paper forms and manual processes with data. Most of these apps can be customized to meet specific needs of any business. For example, we can add your own forms to make the app even more helpful and efficient. Visit our app gallery to try the ready-made construction apps and contact us to discuss app customization.