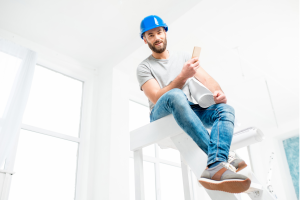 The construction industry tends to quickly adjust to the changing reality. Mobile apps are playing an integral part of everyday operations and the benefits they are giving cannot be missed! Snappii has prepared a list of 5 benefits a construction business will get with a mobile app.
Snappii offers its Construction Estimator app to ensure the process of making an estimate is accurate and precise. The app contains an easy-to-use form that allows its users to collect required information in minutes, automatically calculate material and job cost, take photos and add gps locations. The estimate is easily converted into invoice that a customer can pay.
What will this app give to a construction business?
The ability to make an estimate at the spot. All you need is your mobile app. No laptops, no cameras, no calculators, no paper forms. Simply take your phone, open up the Construction Estimator app, fill in the fields and you will have a professional PDF with the accurate and timely estimate. Send this estimate to your client
Accelerate the estimation process and get paid faster. As soon as the estimate is complete, your client will review it and approve. In this case you generate an invoice instantly. Customer pays the invoice and this way, you will receive your payment faster.
Optimize the workflow. Instead of spending time retyping the information from your paper forms to your computer and printing it, then driving to your client to show the estimate and wait to receive the approval, use the Construction Estimator mobile app. With just one app, you will be able to provide sufficient information to your client in no time and get feedback immediately.
Save time and money. No need to drive to the client or to the office to drop off forms. The estimates and invoices are available 24/7 on your mobile device.
Legal documentation at your fingertips. Make sure you have all the estimates and invoices with the costs agreed on. Access this information anytime from anywhere.
Download the Construction Estimator app from Apple and Google stores and improve your workflow significantly. The Construction Estimator app can be customized to your business needs. Contact us to get a free app demo or tell us how you would like to change the app.