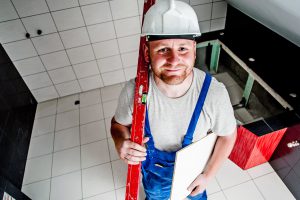 Accurate and quick estimation is the key to winning a job. Many companies still use paper-based processes to create estimates that include many calculations. It requires much time and effort to describe all the work that has to be done, adding totals for the labor, parts, and equipment used. Plus a contractor has to create the work order for both: the client and the service provider. Just imagine the amount of the paperwork!
Today there is a solution that will do the most difficult part of estimation: a Job Estimator app from Snappii. Using a mobile Job Estimator app allows users to forget about manual calculations because the app automatically counts labor hours and rates. Once all the data is entered in, the user can show a customer the total estimated cost in labor, parts, and the grand total. Add your company info to appear on all the estimates, work orders, and invoices automatically. This way, your service provider company will look very professional being able to win more jobs!
Additionally, the app allows users to track time and expenses spent on a particular project or client. This feature is very important as it allows users to quickly leverage the most expensive jobs. The Job estimator app is available for free download from the Apple and Google Stores. Try it at no cost for 30 days. This app can be 100% customized to meet the specific needs of any business. Use your forms, add your colors and logos, and more.
Snappii invites everybody to see the Job Estimator app in action. Automate the Job Estimate workflows.
Join our webinar on June 17th, at 12 PM EDT to learn how to stop wasting money on obsolete estimation processes and make a step forward to leading your industry. Reserve your seat here.
During this webinar you will:
– Learn the benefits of mobile job estimation
– Learn how not to waste money on obsolete processes and win more jobs
– See the demo of our existing Job Estimator app
– Learn how to customize it to your business needs
You'll also be able to ask questions in the Q&A session and receive answers. Save your seat here.
Don't want to DIY? No worries. Tell us what features you are looking for, and we will provide you with a free quote here.