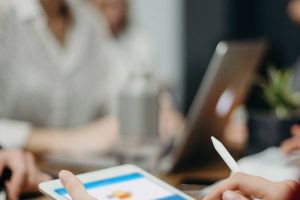 As businesses are reopening many have started to think of a way to organize a safe sign-in process at the reception. It goes without saying that mobile apps and forms have started to conquer the business world as they have proved themselves to be effective tools in terms of improving workflows.
There are several reasons why you should opt-in for the digital sign-in process
Sync collected data across devices
Self sign in/sign out process
Powerful reporting: see who has signed in/out
Keep social distancing
Decrease face-to-face interactions
Eliminate the usage of paper and go green!
Additionally, a digital sign-in process saves time and money on data collection and storage. There's no need to organize files and folders, or use clipboards. A single mobile device at reception is sufficient for the sign-in purpose. Just install a mobile Sign In app and you are good to go.
With the variety of such apps out there you should consider the app that can be adjusted to your business needs, for example, having your company logo will look professional to your visitors.
Snappii offers you its Sign In Guest Book app that can be 100% customized to your business needs. Use your colors, logo, and sign-in form. This app allows you to collect information about the guest and keep track of your visitors at reception.
The Admin feature of the Sign In Guest Book app will enable you to:
-Securely store information about your visitors in your database
-Sync information across multiple devices
-Track visitors as they sign in or sign out
-Get a history of visitors for any time range
-Advanced search on your database
-Export visitors in a PDF format
-Upload Excel files with employees/companies to visit or manually add them via a form
-Upload your own PDF forms to collect specific information from your visitors
-Email PDF forms, print them out, or upload to cloud drives
-Contact visitors via email or call them
-Work online and offline
Download the app from the Apple App Store here and Google Store here.
Don't settle for an app that doesn't fit your business needs. Utilize a convenient and easy-to-use Sign In Guest Book mobile app to easily track visitors using your mobile device and improve your customer service and satisfaction! Contact us if you would like to see the demo of this app here. Additionally, we can offer customization of this app. Request it here.