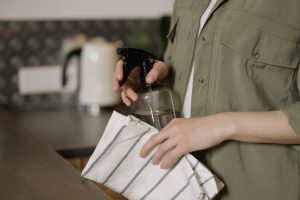 We all know about the current situation with the COVID-19 pandemic and the restrictions it has caused worldwide. Slowly but surely countries have started to open their borders to visitors. Even though many tourists are still apprehensive of the situation, many are looking forward to going anywhere. The hospitality business has to showcase top-notch care of visitors' health and prepare the evidence that it observes all the required measures of precautions.
Snappii introduces its two apps to help manage cleaning and disinfection activities: the Cleaning Inspection Checklist and Disinfection Inspection apps.
The Cleaning Inspection Checklist app provides the cleaning inspection checklist for the audit and inspection of any specific area. The Cleaning Inspection Checklist app consists of the pre-made mobile inspection form that can be filled-in in a snap anytime and anywhere. Users can add evaluations, notes, and photos about the quality of cleaning. Moreover, the Cleaning Inspection Checklist app allows users to generate a PDF report of the inspection, print it, and send it via email. The completed mobile inspection forms are safely stored in the app and ensure constant access. The Cleaning Inspection Checklist app is available in Apple App Store here and Google Play here.
Disinfection Checklist COVID19 app from Snappii is a great tool for ensuring proper disinfection for commercial and residential facilities. The app contains a comprehensive checklist with 38 checks to ensure that all surfaces have been disinfected. The app is based on the Centers for Disease Control (CDC) Prevention guidelines. It can be downloaded at no cost from Apple here and Google Store here. Watch a quick demo of the app to see how it works here.
These Snappii apps can be adjusted to your business needs. Send us your requirements here and we will get back to you with the quote.