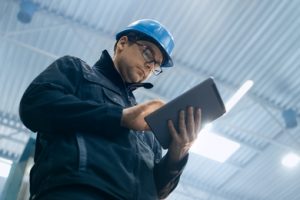 Specialists know that there are several obstacles to effective field data collection. Potential inaccuracy, the expenditure of time for delivery of reports to the office, multiple delays and more can hamper the efforts of any field worker. As a result – shifted deadlines of projects, extra costs, decrease of productivity and income appear.
It's the time to change the way of data collection
That's why the field data collection apps become such an important new offering for the companies that rely on data collected by the field workers. By moving to the digital format these businesses are able to benefit from stable and multifunctional system, which is much faster, cheaper and more qualitative.
Field data collection apps is a perfect fit for different inspections and inventories. Specialists at the jobsites can instantly fill in mobile forms and generate reports. Paper reports can be unwieldy, not only for field workers, but for the managers. Mobile reports allow them to contain all the documentation in a proper order and use it at any time anywhere.
Collect the data in the field even without the Internet connection
Many companies already experience the benefits by switching to the mobile data collection apps. After working in the industry for years, Snappii continues to improve its mobile solutions for the field workers. We take into account all the previous experience and realize the vital needs of modern companies. Our key principle is – this must be automated and easy to use. Snappii offers the absolutely customizable data collection apps for extremely closer compliance of customers' requirements. The main industries we work with are:
– Construction, building and property
– Vehicle and fleet management, transportation and logistics
– Field tracking and delivery
– Warehouse management
– Fire safety
For Snappii field data collection apps, the level of Internet connectivity, which may not be available to your teams in the field, is not a problem. Users can work even without the Internet connection. One more unique feature of Snappii apps is the opportunity to use your existing PDF forms. With a little edit, they can be transformed into mobile forms. Use such types of data as photos, calculations, locations and more to generate the reports right in the app. The reports have completely professional view and can be sent immediately from your phone to the office. We don't forget about the interface of the apps. Snappii data collection apps are absolutely user friendly, what makes the work with them even simpler and quicker.
We can continue to talk about the advantages of Snappii field data collection apps but it's much better to try them yourself with a free trial. Visit our gallery and choose the necessary app for your work. Our top apps are:
Construction Timesheet app
Inspect Anything app
Construction Change Order app
Quick Expense Reporting app
Job Estimator App
Warehouse Inventory and Shipment app
Construction Manager app
Field Service Daily Log app
Need any specific features in the app or some changes? Contact us. Send your requirements and our team will implement them.