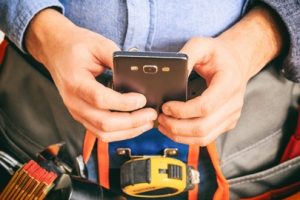 The new Snappii Construction Timesheet App is truly a game-changer in the construction industry. Not only will this redefine the way you manage constructions projects, but will also save you a lot of money, a lot of time and a lot of headache in the process. It does this by incorporating the whole timesheet management aspect of a construction business, along with many other useful features we'll explore next, into a single, easy to use application.
Less Paperwork Lowers Risk of Error
The main feature of the Construction Timesheet App is the fact that you won't have to rely on paperwork anymore. No more need to copy, fax, email, pass on and retrieve timesheets from different people in your organization and then put that information all together in a different place. Now you can do it all in one place, and that's through this easy and intuitive application four your favorite mobile devices. This will save you a lot of money, and a lot of time you'd have otherwise lost with handling physical timesheets.
Main Features and Benefits
Aside from allowing you to create comprehensive timesheets that you, assigned managers or the employees themselves can fill out, you can also create construction projects in the app. Once the project has been created and all details pertaining to it have been introduced, you can then create profiles for your employees or managers. Next up, you'll get to assign each and every person to whatever project you need them to work on – and they can receive the information in real time.
Once they start working on the construction job, they can use the Construction Timesheet App to log in their hours and even break times. Want to get a more bird's eye view on the operation? Create weekly or biweekly timesheets instead!
Sharing Information Just Got Simple and Fast
As soon as a project is done, you would normally have to get all those paper timesheets together and use them to figure out wages and oversee general productivity numbers. Not anymore: with this Timesheet App you can access all saved timesheets at all times. And it gets better – if you're not the one in charge of handling these timesheets, you can immediately email them to your supervisor, your accountant or human resources at any time with a simple tap.
All in all, the Construction Timesheet App for iOS and Android is a great option if you want to save time, money, avoid confusion and risks, and be able to oversee project operations at all times. Furthermore, the application is 100% fully customizable to your specific construction business' needs. So download it now and try it for free on two projects and watch your productivity soar to new heights!