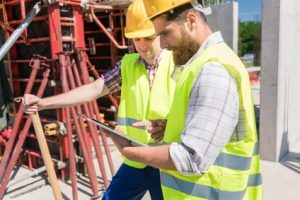 Since mobile construction apps have surged in popularity, the number of apps and their types is also growing rapidly. Let's figure out what to look for in a ton of mobile construction apps available in the Apple and Android stores today.
Construction Project Management Apps
The first and most popular type of construction apps is project management apps. Construction project management combines different operations and project managers need a wide range of skills and tools to carry out the projects on time and budget. This way, good project management app usually offers multiple features for:
– time management,
– cost management,
– quality management,
– safety management,
– constant communication,
– data collection and processing,
– reporting.
All these tasks should be done on-the-go and with minimal effort. Snappii, a leader in mobile construction apps, has analyzed the tasks of modern construction manager and tried to develop a universal tool for their extremely fast and efficient implementation. The Construction Manager app is specifically designed to ensure the accurate and regular flow of information, such as maintenance logs, timesheets, inspections, project estimates and reports between company headquarters and construction sites. This app is a unique opportunity to control the entire project path with ease.
Construction Timesheet Apps
It doesn't matter if you have ten employees or ten thousand, it can be difficult to track workers and job at the construction sites, relying just on the paper timecards and timesheets. That's why construction timesheet apps are an extremely helpful tool for modern construction specialists. The app can help to bridge the gap between the field and the office, ensure control under the workflow and improve the efficiency of the whole work.
Construction Timesheet app from Snappii offers powerful features for both managers and field employees. From "punch in and punch out" solution to weekly and biweekly timesheet reports, the app can significantly save time, money, eliminate confusions and any headache.
Construction Daily Reporting Apps
Construction daily report is an essential part of daily activity of any construction worker. Such reports usually contain the work done, the equipment used, the exact time work began and ended, the weather conditions, any delays and more. These documents influence the status of the whole construction project and should be brought to a special attention. So, daily log apps are an important type of construction apps and can be helpful for all specialists.
Snappii Construction Daily Log app with ready-made forms can ensure nothing is overlooked at the workflow. With this app, timely and professional daily reports is a process of several clicks. The other benefits include:
– elimination of paperwork and lost forms,
– time and cost saving,
– workflow optimization and improvement.
A lot of modern construction apps contribute a positive growth of construction companies. Now you can decide what exactly you expect from your construction app and make the right choice. And if you can't find an appropriate ready-made app, Snappii is always able to create a custom app in accordance to your special requirements.