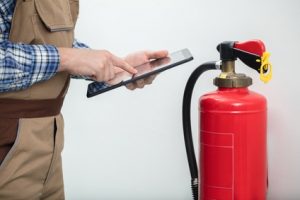 Safety at the jobsite is one of the most important concerns a general contractor must have. By making safety a priority, the majority of worksite injuries and deaths can be reduced. Safety maintenance consists of several activities such as regular trainings and inspections.
Safety training – a way to reduce and avoid hazards
OSHA's safety training and education rule at 29 CFR 1926.21 applies to most construction activities. All employees must complete special courses about the workplace safety and be trained in first aid. Also they must learn how to use firefighting equipment and behave in an emergency. Many of the construction hazards can be avoided with just proper safety training. The employees become more capable and more focused on their safety. Such trainings should be regular and each worker should confirm his knowledge. Here you can find training and outreach materials from several construction resources.
Safety inspection – a way to establish safety environment at the workplace
Inspections are also a quite important part of safety maintenance and can include:
– common hazard analysis,
– construction equipment inspection,
– inspection of the firefighting and protection equipment,
– tracking of the accidents and reporting,
– inspection of regular safety trainings.
All these activities should be documented. However, work with paper at the construction site and constant trips to the office can be a huge burden for inspectors and other specialists. Moreover, paper forms are unreliable, they can be lost and contain errors. Inspectors spend much time collecting the data, it can take several days and result in rate increase.
Safety inspection apps
Special safety inspection apps allow performing inspections using a smartphone or tablet right at the jobsite. Mobile checklists help to collect the data and control inspection activities. Keeping inspection records is important. Mobile inspection apps offer reliable data storage and give access to it at any time. Some app development companies like Snappii offer both: the general safety inspection apps and more specific apps.
For example, Workplace Safety Inspection app allows users to conduct general inspections. The user can inspect working environment including surrounding appliances, medical service, environment control, fire protection, etc. and fill out and save ready-made forms in minutes. Workflow Safety Inspection app will be useful for construction management companies. The app includes a checklist that might be used by inspectors to help them identify and prevent hazards and accidents on construction sites.
As for more specific safety inspection apps, Fire Inspection app is a perfect tool to inspect fire hydrants, extinguishers and other fire protection equipment. Fire Extinguisher Inspection app is another example of such specific apps.
With Snappii, inspectors gain a powerful tool in the effort to conduct thorough and effective safety inspections. Moreover, all our safety inspection apps are absolutely customizable and can be supplemented by your own forms or any features. Just contact out team or send your forms and requirements. Make workplace safety your top priority and rise the efficiency of the work and the revenue.