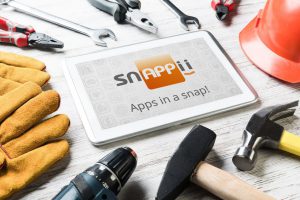 Mobile technology is influencing how we do almost everything in our private and work activities. It is changing how we communicate, get, process, and share information, conduct researches, learn, and more. Today there is a mobile app for almost any activity. Along with their entertainment capabilities, they are valued by many people for the capabilities they provide for business and work.
The benefits of mobile solutions for business and work
No matter the industry, digital forms, and mobile apps can significantly transform daily operations and workflow. Their main advantages are:
– convenience and agility,
– data accuracy and timeliness,
– lack of paperwork,
– acceleration and optimization of operations,
– costs saving.
Among the activities mobile solutions can improve and streamline are:
– daily reporting,
– inspections,
– work time tracking,
– workflow management,
– estimations,
– inventories,
– work order creation and assignment,
– invoicing.
Why Snappii is the top choice when it comes to mobile business solutions
Snappii is an expert in business mobile solutions. 10 years of hard work and development made Snappii a leader in the market. Today we offer both ready-made solutions and custom development. Anyone can download and instantly start using our ready-made apps covering plenty of industries and fields of activity. If you want to fulfill your specific needs and ideas, our team is ready to discuss them. "Snappii has moved mountains to bring my vision to reality. I have never heard from the Snappii team that "we can't do that".  Regardless of what I asked of Snappii they always tried," says Robert Gulino, Director of Procurement in Modern Niagara Toronto Inc.
Moreover, Snappii allows anyone to create mobile-form apps themselves. Snappii Form Editor has a simple interface and the opportunity to convert already existing forms to mobile apps. Also, there is a library of 100+ pre-made form templates. You can edit them or create your own mobile forms from scratch. The Snappii team has prepared useful video tutorials to demonstrate how the Snappii Form Editor works.
If you still have not switched to mobile solutions, now is the best time to do it with Snappii. Feel free to contact us with any questions.