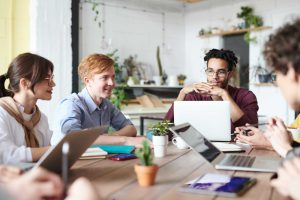 Despite how highly technical it is, software development is not always linear. Depending on the creativity and decision-making skills of a dev team, there are many different ways to improve upon development quality and speed.
Here at Snappii, we create customized mobile app solutions to enliven and improve our clients' development processes. Whether iOS or Android, our team of mobile tech experts have got you covered. You don't have to wait for months! In just a few days, you can have a fully functional product that exceeds your expectations.
To show you some proof, take a look at our most recent 5-star review on Clutch from one of our ongoing partners:
Now, if you haven't heard of Clutch, it is the leading ratings and reviews platform for IT, marketing, and business service providers. Each month, over half a million buyers and sellers of services use the Clutch platform, and the user base is growing over 50% a year. Clutch has been recognized by Inc. Magazine as one of the 500 fastest-growing companies in the U.S. and has been listed as a top 50 startup by LinkedIn.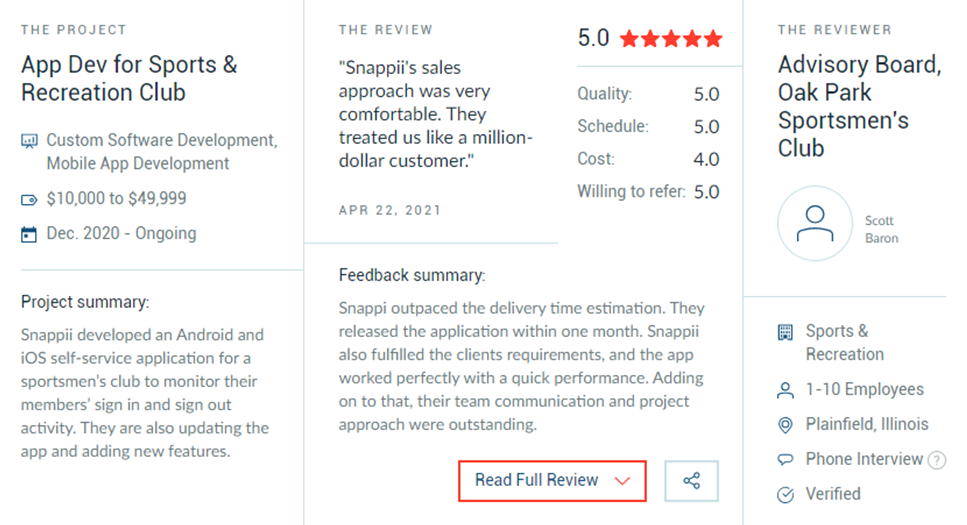 Additionally, Clutch's sister site, The Manifest curates lists of the top companies in an industry and location, and Snappii is also featured on The Manifest's list of top field operations app developers in Boston!
In the review above, our client, Oak Park Sportsmen's Club, a sports and recreation club, contracted us with the development of their mobile app which they wanted to be available on Android and iOS. However, we wanted to add more features to the product, and so, a beautiful long-term partnership with them was born. We're currently in the works to deliver an advanced and better-performing product.
"Snappii didn't need guidance. Once we discussed what we were looking for, they understood. Then, they came back with the initial release for testing, and it was probably 95% accurate. Snappii's sales approach was very comfortable. They treated us like a million-dollar customer."
— Scott Baron, Advisory Board, Oak Park Sportsmen's Club
We're grateful to all our clients who have provided their honest feedback. Check out our Clutch profile to learn more about our previous and current engagements, including this one, and read the full review.
Find out how our mobile app development solutions can improve your business! Get in touch today!