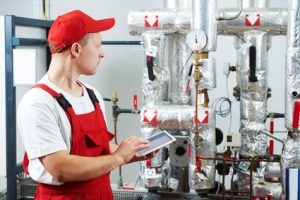 As mobile technology advances, it is natural that all main industries try to get advantages of mobile apps. This way, it's become essential for HVAC organizations to utilize multiple apps, especially in the fieldwork. With the right HVAC app, a company can significantly enhance its output, eliminating extra operations and costs.
Instant work orders
HVAC companies face a high amount of work orders and need a powerful tool to process this data. Due to the fact that the most work of any HVAC business is done in the field, mobile HVAC apps are the best solution for quick and easy work with data on-the-go. Registration, assigning and tracking of work orders become much easier and are available for any field specialist with a smartphone. Also, field technicians can modify an existing work order at any time and instantly notify other employees, managers or the clients themselves. They will not miss any changes and all actions will be safely stored in the app.
Advanced reporting
Daily reports are an indicator of efficiency of both each individual employee and a whole business. The time, technicians spent filling out paperwork, processing data and transferring it to the office is a critical metric that can impact the efficiency. HVAC apps provide a new way of reporting, which help save time, efforts and as a result – increase productivity. Thanks to digital forms, data collection is a process of several minutes and can be done right at the jobsite. Moreover, employees themselves are able to generate complete professional reports with timely data right at their smartphone.
Timely inspections
Inspections play quite an important role in HVAC business. It can be an inspection of work quality, regular equipment inspection, workplace safety inspection, etc. HVAC apps are an inalienable assistant in various inspections in the field. Control of regularity and constant notifications allow conducting timely inspections, avoid issues and keep the documentation in order.
Snappii, a leading business apps provider, offers a ready-made HVAC Inspection Checklist app with all primary features for quick and qualified inspections. If you need additional functions, you can send us your requirements and we will add them to the app. Also, your personal inspection forms can be instantly converted to HVAC Inspection app from Snappii. Download and try the app here.
Time to go digital
You already own the main tool to optimize your HVAC business. All you need is just install a HVAC app at your smartphone. Can't find an appropriate app in the market? Contact Snappii and get a custom HVAC app specifically developed for you and in accordance with your personal needs. We develop the apps from scratch in a few weeks not months. You will be involved in a whole development process and we will try to meet any of your requirements. Thousands of companies in such industries as construction, transportation and logistics, vehicle and fleet management, field service have already benefited from Snappii apps. Find more information about custom mobile app development here. It's your time to go digital.