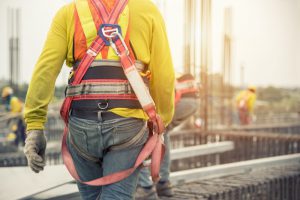 The Occupational Safety & Health Administration (OSHA) was established in 1970 and companies must be in compliance of its safety standards to this day. Failing to be in compliance and violating these standards can be very costly to both the lives of employees and the business itself. And the question is who's to blame for OSHA violations, employer or employee?
Forewarned is forearmed: protect employees and your business
In an interview with NBC2 News last month, safety director of Crown Roofing, a Florida company specializing in new construction, re-roof, maintenance and roof service (the firm has contested more than $500,000 in fines), said the incidents occurred because some employees were not obeying company safety rules. Sometimes even if a contractor has trained its employees on safety rules a few workers may simply refuse to follow procedures. Anyway, employers need to make sure they make some basic measures to protect their employees and their business.
– First of all, any employer should provide employees with a written policy of general safety rules and procedures as well as violation consequences. Forewarned is forearmed and this works for both sides.
– If employees have a full understanding of the tools, equipment, substances they may be working with and of the emergency behavior, the chances of accidents will decrease. Regular reminders and training and their reporting will protect employees from injuries as well as protect businesses from violations and fines.
– Employers should pay special attention to a system of verifying that the rules are being enforced. This is usually accomplished by visual observations, timely documentation of any violations and punishment. It's extremely important to discipline the person who was committing the violation by special measures.
Smart assistant in your pocket
To successfully implement all the measures above, businesses need a tool for optimization, inspection and reporting. Special mobile apps are the best assistant, which allow users to communicate, track, collect data, process it, generate reports, send and store them anytime and anywhere.
Snappii, a mobile business app provider, have helped thousands of companies in such industries as construction, field service, warehousing, transportation, logistics, fire safety, fleet management and more. We try to focus on the most required operations and help specialists improve and optimize them. OSHA case reporting mobile app is designed for individuals to instantly report any violations of Occupational Safety and Health Administration regulations right on the spot. It can help employers save their business and streamline workforce management. Snappii team is able to modify OSHA case reporting app for any specific needs. For example, you can use your existing forms right in this app. We will convert them and make necessary changes. Just contact us to discuss.
The maximum citation for serious safety hazards is $12,471 per violation. It's beneficial both in terms of employee health, and business finances and legal security to stay up to date on OSHA safety standards and make efforts to identify and negate possible safety hazards. Employers can find more useful information about OSHA regulations and get a consultation here.