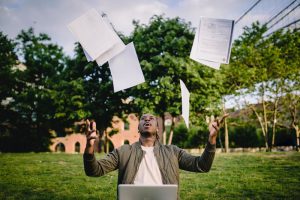 Time management skills are a special practice modern businesses crave for. Indeed, every minute costs businesses serious money, hence, needs to be valued. Besides completing all the tasks in time, employees have to find additional time to complete a daily report.
A study of U.S. and European companies by The Boston Consulting Group found that "managers spend 40% of their time writing reports." Just think about this number. Full daily reports indicating work progress, taking and attaching photos, describing the issues reflected by the photos, collecting signatures from the clients, managers and so on, steal 40% of people's time.
How to Quit Paperwork and Boost Productivity
Let's take a look at an average employee working on site who needs to create a daily report at the end of the day. After a hard day of work, the employee takes notes to reflect all the work done, takes photos, counts the materials cost, labor costs and hours. This looks like an additional shift. Now let's see if there is a solution to quit paperwork and at the same time boost employees' productivity.
We at Snappii hear all the time how people are drowning in paperwork. Here's an example from one of our customers:
"Snappii provided the app with our requirements needed to reduce handling of paper invoice and BOL for our customers. This is a wonderful app and a real time saver. Our company has gone from many paper items to ZERO paper needed for our purpose. We love it." ~ Edwin Smutt, Elevation Transport.
Mobile apps are an effective way to ditch paperwork for good. Say goodbye to stocks of paper, clipboards, illegible handwriting, human errors, etc. Snappii offers convenient and easy form conversion for Do-It-Yourself users. Download free Snappii Mobile Forms app, load your existing forms by taking a photo or scanning, or a digital form and convert it to a mobile form app in a snap. If you don't have your own form, you can choose a ready-made form from the library. The Snappii Mobile Forms app is available for free download from both stores. The Apple version has the ability to load PDF, a photo, a scan or create a form from scratch. The Google version has the collection of ready-made templates and the ability to load your PDF.
Additionally, Snappii team can help you convert your forms. Just contact us here.
Use mobile apps today to save precious time on filling out forms, reports, inspections, checklists and more, and boost your productivity.