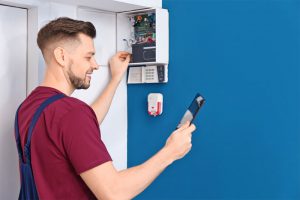 Optimized quoting means winning more deals and building your customer base. Creating estimates and quotes has traditionally been a slow and painful process for businesses, especially field services. Creating estimates on site and driving back to the office to finalize and get a quote is highly inefficient. Modern mobile software for estimate and quote generation and management has changed the process and allows businesses to significantly improve accuracy and profitability.
Professional-looking estimates are at your fingertips to get instant quotes
Estimate apps enable the users to quickly create professional-looking estimates out in the field and send them to the office to instantly get the quotes. The estimates and quotes are always available on the mobile devices in multiple file formats for reporting, printing when needed and easily sharing through multiple channels.
Look professional for your customers and become more successful
Leave a great, professional impression thanks to powerful estimate apps. Handwritten estimates can be hard to read and lead to misunderstandings, errors and delays. Mobile estimates are much more accurate. Estimate apps allow workers to capture the customer signature on their mobile device, and thereby accelerate the quoting process.  This way, the speed means more productivity, more success and it creates an attractive image.
The best app for quick estimates on the go
Snappii, a mobile business solution provider, helps various businesses become more optimized, profitable and successful. We cover different industries and make usual work operations easier and quicker. What about estimation and quoting process, Snappii offers a Job Estimator app, which is the best pocket assistant for field workers. Among the main features of the app are:
– the ability to collect and provide detailed information about projects and work completed,
– the ability to create project estimates that cover company's information, work description, labor hours and rates as well as all parts that are necessary,
– the ability to keep track of basic data, specific details of the job and its progress statuses,
– the ability to make calculations,
– the ability to report about the results of the completed work or project via professional report in a PDF or Excel formats,
– the ability to sync collected data across multiple devices,
– the ability to work in online/offline mode.
Download Job Estimator app, try it and get even more advantages.
More solutions from Snappii
Snappii offers a unique solution of customization the ready-made apps. We can modify Job Estimator app to meet your personal needs. For example, we can add your own estimate forms to streamline your workflow. App customization is the best way to get more for a small fee. You just need to send us your requirements and ideas.
However, if you want your personal business app, created from scratch, Snappii team is also ready to help you. Contact us to discuss this at support@snappii.com.
Leave the bad customer service to your competitors and move to the next level with fast mobile estimating and quoting. Win more deals and increase the revenue. Start it right today with Snappii!