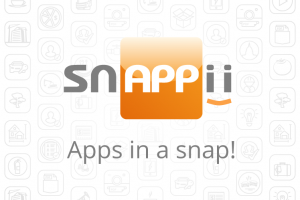 While there are many mobile application development platforms in the market today, most offer simple, template based approach that leads to development of look-alike mobile business apps which lack enterprise features like backend systems and data connectivity, scalability and performance.  In contrast Snappii offers a unique approach to rapid native mobile app development.  Its customers are creating enterprise-grade, sophisticated, connected to back-end systems and data mobile mobile business apps without having to write a single line of code.  Furthermore in contrast to traditional enterprise mobile app development projects, Snappii customers are getting the mobile business apps completed in 8 weeks or less.
Snappii's cloud based platform for rapid mobile app creation enables business people to design, develop, and deploy enterprise grade feature-rich and secure business mobile business apps in 8 weeks or less. Using Snappii's flexible Visualization Editor, even non-programmers can design and build feature-rich enterprise grade mobile mobile business apps once and deploy across all major mobile platforms including iOS, Android, and HTML5. In addition, since the platform does not require extensive mobile developer skills to get started, programmers and non-programmers alike can deliver robust native mobile business apps quickly and easily, saving time and money. The Snappii platform also provides easy to use application management and integration services.
Today Snappii has announced that it has added several major feature enhancements to further differentiate its platform from competition such as Kony, Antenna Software, Appcelerator and others.
Using the Image Gallery Layout feature, Snappii users can create professional looking mobile mobile business apps using many visual layouts, such as horizontal view, grid view and split view. Using images rather than textual lists users can create more visually appealing applications for uses cases requiring a more visual approach. Some examples of mobile business apps that require a more visual approach are product catalogs, real estate listings, auto dealership listings, oil and gas mobile business apps for visualization, inspection mobile business apps just to name a few.
Snappii has also significantly improved data sharing capabilities in mobile business apps. Using the Share button feature users of mobile business apps can email any data, post it to Facebook and Twitter, print, send SMS, assign to contact database or save to photo album. Now users can share images, screenshots and data from fields quickly and easily. Some of the uses cases involve notification via social channels, printing of documents, saving of pictures to camera roll.  For example insurance adjusters can inspect a damaged vehicle and capture the photos.
The Universal form feature now features a wizard for rapid creation and sharing of forms as templates.  This significantly speeds up creation of mobile business apps for data collection mobile business apps.  Some examples are mobile business apps for inspection of oil pipelines, equipment, road and bridge inspections. The created forms can easily be rapidly re-used in many parts of any mobile business apps. In addition Snappii forms work online as well as offline. Information is stored in the app and is automatically forwarded to its destination when the Internet connection is restored.  The ability of mobile business apps created with Snappii to work offline is a key reason why Snappii is getting rapidly adopted for mobile business apps in field services, product catalogs, oil and gas pipeline inspection and other use cases where Internet connection is often not available.
The Select contact button function enables auto fill form fields with complete contact information from the Address Book on users' devices. It is a very useful mechanism that helps to save time and get all the necessary information with one button click.  This will save app users a lot of time when filling out forms.
Advanced Calculated fields function represents a major update for the editor calculator options. Today, Snappii users can create formulas to enable/disable fields on a form based on values entered in other fields, text formula field for forms or hide automatically calculated fields on forms.Calculated / Formula fields allow making calculations, showing user's personal information, location data and more. Formula fields can be added to such controls as Form, Advanced Form, Universal Form, Advanced List and Gallery Layout and can be found in the Elements Panel – Form and Calculator Fields.
 "These enhancements to the Snappii Cloud Visualization Editor is a significant step in the ongoing evolution of the Snappii Mobile Enterprise APP Platform, – Alex Bakman, Snappii President and Owner says, – This is about listening to our customers and ensuring that we are meeting their stringent demands and needs for the rapid development and deployment and management of enterprise grade mobile mobile business apps".
Since 2010 Snappii has delivered significant platform improvements to address the growing complexities of mobile app creation and deployment. The company is committed to continue improvement in functionality for building enterprise grade mobile mobile business apps. Please visit Snappii site to check for new options. Snappii offers customer a choice between a do it yourself service and full service app development.
About Snappii:
Snappii was founded by Alex Bakman, a successful serial entrepreneur who has grown many companies from zero to millions of dollars in sales. Snappii has publicly launched its services in March of 2011. All are welcome to try Snappii at no cost http://www.Snappii.com.