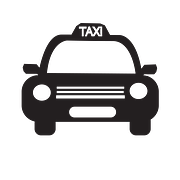 Now any taxi company can have Uber-like app starting at $5 000 in a matter of days, not months.
January, 26. Snappii, the leader in custom business mobile apps development with the Snappii Mobility Platform, which enables the rapid design, creation and deployment of custom business mobile apps without writing any code, today announces that is has entered taxi app space allowing taxi companies to compete with Uber, Lyft, Curb and others. Taxi companies have already lost hundreds of thousands of dollars to Uber and Lyft. Snappii gives any Taxi company the opportunity to fight back with technology equaled to Uber and Lyft.
Taxi mobile app market is exploding. Uber alone is expected to hit $10 billion in revenue by the end of 2015. Many taxi companies are realizing that they need to get mobile apps to effectively compete. Taxi companies want a mobile app but don't believe that this can be done quickly and affordably. Taxi companies don't have to look for experienced and super-expensive mobile app developers.
Snappii mobile app development platform can help taxi companies enter the mobile market. Snappii offers a price starting at $5000 to create a custom mobile taxi app for both: iOS and Android devices. The mobile app can have relevantly comparable set of features as Uber but does this far less expensively and much faster than hiring a developer. Using Snappii taxi companies can have Uber-like apps in days, not months. Besides, Snappii has created a technology that allows its users to develop custom mobile taxi app in days, not months.
Snappii provides a set of features that enable taxi companies to:
-Register as a driver
-Appear on map
-Change status from "available" to "unavailable" and vice versa
-Take orders
-Estimate arrival time
-Calculate income
-Change location
-Participate in discussion forum
-more
App users can easily:
-Order a taxi
-Schedule pick-up
-Add routes to "Favorites"
-Rate drivers
-Cancel a ride
-Participate in discussion forum
-more
Listed are most notable features a taxi app should have, however, Snappii mobility platform can add as many features as is requested by a taxi company. Snappii apps are created in days, not months on a codeless platform. Snappii already has 80+ live business apps in 26 industries available for download on Apple and Google Play stores and this number keeps growing. All are welcome to try Snappii at no cost at www.Snappii.com.
About Snappii:
Snappii is a unique mobile solution for businesses that offers both: a platform to create mobile business apps without programming in days, not months, and a wide selection of ready-made industry specific and general apps that can be downloaded from Apple and Google Play store at no cost. Over 20, 000 apps have already been built on Snappii, with customers range from the largest companies to medium and small organizations. Learn more at www.Snappii.com.