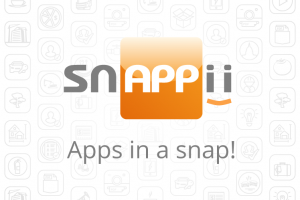 Whether you are a Snappii user or are just beginning to consider building an Enterprise Mobile App. You can now connect your mobile business apps to any web service which supports the RESTful interface. This means that by using the Snappii Platform, you can now create dynamic, data rich applications that will provide all the data both your own personnel and your customers will love!
Connect your mobile business apps to popular web services like Salesforce, Google API, Constant Contact, Instagram, Twitter, and Weather.com just for a few examples.  You can also connect your app to databases and systems running inside your company to create enterprise grade mobile business apps for customers, partners and employees.
If you are a current Snappii user, the Snappii Support staff will offer free assistance to help you connect your existing mobile business apps to a web service of their choice for the next 30 days.
If you haven't become a Snappii customer yet, if you hire Snappii to help develop your Enterprise Mobile App for iOS, Android, and/or HTML 5, we will extend this offer to you as well. A tremendous opportunity to complete your company's Enterprise MobileApp, but get the expertise of the Snappii Support and Development Staff to ensure you are able to smoothly and accurately integrate a web service of your choice quickly into your app.
You can learn more about Snappii's development services and costs on our pricing page.
If you are interested in developing a new app and connecting it to a web service or adding a web service connection to your existing Snappii developed app, please contact Sales at 603-651-0066 or email ddrown@snappii.com.ddrown@snappii.com .