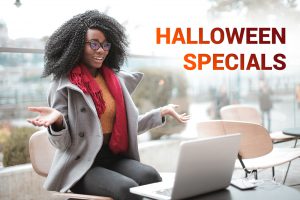 Retailers are always looking for ways to increase their online visibility and boost sales. Halloween is coming and buyers are expecting to receive special offers and discounts.
So what are the best ways for the company to reach out to its potential audience with its Halloween offer? In this article, we will review different approaches to reaching out to your customers.
In-store banners. This is an old-fashioned but yet effective way to attract visitors' attention. Flyers and banners have been doing their job for years long before mobile technologies have come into place. The younger gen might not even notice them as they most likely will be staring at their phone – that's where you need to grab them! Moving on to the next points will tell you more.
Social media channels. Facebook, TikTok, Instagram, and Twitter are too popular to leave them out. Make sure you are posting information about your special offers and discounts to these channels with popular hashtags.
Push notifications sent directly from your app. Don't have one? Hurry to order a custom mobile app developed specifically for your company. And hey, Snappii is not an exception. We will give you a 15% discount on the custom app development fee by the end of October 2021. Use our NOTRICKS coupon by the end of October 2021. Contact us with your requirements here.
Email campaigns are another old-fashioned way to tell your customers you are giving away Halloween specials. However, the open rates of the email campaigns are not so great as that of Push Notifications. Still, it is nice to receive an email with an appealing offer.
Last but not least is online coupon websites. Your potential buyers are browsing such websites specifically to find the deal they need. Top sites will post your offers at no cost. WeThrift.com, RetailMeNot, Coupon Great, and others have easy to browse and add coupons.
Only 5 days are left till Halloween. Make sure your offer gets noticed by the right audience.