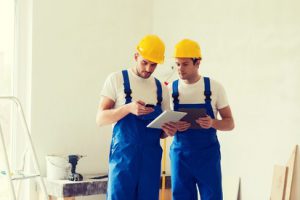 Mobile app development is a trend no one should ignore. Mobile apps bring significant benefits to streamline most business operations and the investments will justify themselves pretty quickly. Here's how you could verify the need for a mobile app for your business.
Identify the workflow inside the teams. How do they mostly collaborate? What can be improved? Let's consider an example. A field team is getting tasks from the office management via paper forms. One drives to the office to get the job tasks, then drives to the field to give tasks to the field team. Each time there's a new change request or a new estimate required, it should be coordinated with the office management, and signed once agreed. Imagine the amount of time wasted on the trips from and to the office to sign each change request. With the help of mobile apps, there's no need to drive to the office to get the paper forms anymore. All your team members need is a mobile device. Once the office management creates a job task, it appears in the mobile app. The field staff open up the app to see it. Any change requests can be applied via the app as well. In no time, the office will receive it, review it and either reject it or sign it off. Forget trips to the office to sign forms. Valuable time can be spent doing real work, not paperwork.
This way, we see how mobile apps help speed up workflow between the teams inside your organization.
Lower costs. Businesses are always looking for ways to optimize costs, and save money where possible. If we stick to the same example, we will see how much money is spent on paper. The majority of paper files are getting disposed and the rest is stored for a very long time. Paper files accumulate which makes companies enlarge the stock. The cost of a paper document is really high. On average, it costs $4 for a document, and it is estimated that US companies will waste about $8 billion every year on managing paper, according to aiim. Taking that into account, businesses should revise their approach to paperwork. That's when mobile apps and forms come into play. After a small investment into finding the right mobile app for you, the app will start working for you saving you money on handling paper documents.
Human errors entering data. Think about other ways you can use mobile apps to improve your business-related tasks. For example, eliminate errors caused by entering information manually. People can make mistakes while entering data, or – more often – while retyping the data into computers. With mobile apps and forms, errors with illegible handwriting are eliminated.
Even taking these three approaches show how mobile apps and mobile forms help accelerate collaboration between the teams, thus, improving the entire workflow, save time and money, and eliminate human errors collecting and transferring data. You can try to create a mobile app yourself with the Snappii codeless app builder. Don't want to DIY? Have our professional team of app builders either modify one of our existing apps, or create a brand new app from scratch for you. In either case, it will be cheaper than hiring a mobile app developer. Contact us today. Request a mobile business app for you.