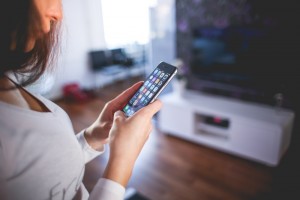 Every quarter it seems new data is released or new stats shared about the rapid migration of users to smartphones and mobile apps from desktops and the "web". In 2014 the time spent in mobile apps surpassed time spent accessing the web from desktops. In 2015 Google announced more video is watched from mobile devices, more local search is conducted via mobile and even more web search comes from mobile than desktop.
Traditional business directories and large retailers from Yelp to Target and Macy's adopted mobile-first strategies with great success. If the two previous years were the large tech and digital companies moving their businesses to mobile apps, the holiday season of 2015 announced that mobile was clearly not only for tech companies but "brick and mortar" retailers as well.
As search moves from simply "Googling" to interacting with a growing array of digital assistants (Google Now, Siri, Facebook M) and users are more frequently searching for content that exists in apps (Facebook, Yelp, Fandango, AllRecipes, Target, Amazon, Netflix etc.) – it has never been more clear a wide variety of businesses stand to benefit from a mobile app for their business.
Building a mobile app is an important first step, but helping your target market find your app, and then access it easily and quickly on their device requires creating an optimized app listing. The strategy of optimizing an app store listing is called app store optimization or ASO.
The two largest app stores, Google Play and Apple's App Store, account for over 90% of active smartphones, but have different app listing fields with different requirements. While the approach to optimizing an app for each store is a bit different, the opportunity is the same:  Most users find new apps via app store search, and an optimized app help tap into this huge stream of organic traffic.
There are all sorts of strategies and approaches for optimizing a mobile app, but one of the most important things to understand about app store search is how users search the app stores is very different than how they search the web.
A simple demonstration you can do yourself is to search "bakery" or "craft beer" or "sushi" in Google or Bing, and then again in the Apple App Store. The different results you are sure to have received help show just how different the intentions of a user are when performing an app store search versus a web search.
Users searching the app stores tend to search for features and functions, with brands making up the balance of search. Be sure to use your business' name, and then what you do, or location if relevant.
Ideally you are optimizing your app using the words your target market is using to find your app, which generally requires partnering with an app store intelligence platform – a service that tracks app store search, trends and related search phrases.
The infographic below provides a good overview of ASO for Apple's App Store. The Apple App Store listing is comprised of an app name, description field, icon and screenshots as well as a "stated keywords" field for you the publisher to help Apple understand what your app is and who it is for.
As more and more users of all age groups turn to mobile first, now is the time to look at how a mobile app can help your business connect with your target market and future-proof your business during this time of change.
About the author
Dave Bell is the Co-Founder and Chief Executive Officer of Gummicube. In this role, Dave is responsible for overseeing the business strategy for the company, driving growth and market development. Dave is a pioneer of the mobile entertainment industry with more than 15 years of experience publishing, marketing and distributing mobile applications and games across carrier, direct to consumer and app store channels.