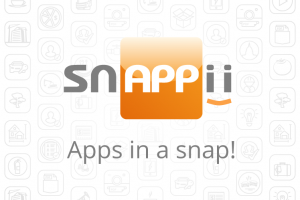 In my last two blogs I talked about how companies are trying to address the burgeoning mobile app demand with cloud-based mobile app development approaches. These approaches, often taking the more traditional paths of server-side development or outsourcing, can present challenges in time, resoures, cost and development control. As such, utlizing an online mobile app development platform is an excellent alternative to traditional app making approaches.
snAPPii is a cloud-based platform for developing sophisticated, feature rich mobile mobile business apps without writing code for a majority of mobile business apps. We enable programmers and non-programmers to build native mobile business apps quickly without having to know Objective-C and Java programming. Experienced mobile programmers can dramatically accelerate app builds with snAPPii by taking advantage of not having to re-write code for the same features on different applications and focusing on coding enhancements to the platform for business-specific needs. Additionally snAPPii's own App Designers leverage the platform to offer clients full service custom app development.
snAPPii users build mobile applications over the cloud without having to install any software. Our Visual WYSIWYG editor with drag, drop and configure functionality offers a wide range of benefits.
Some of snAPPii's core features and capabilities include:
1. Data Connectors. Build sophisticated data driven native mobile business apps that leverage data from both internal enterprise systems as well as cloud based applications. snAPPii offers several pre-built data connectors to commonly used web services like SalesForce, Vimeo, Mailchimp and etc. Connect to websites, web based applications and internal databases with RESTful API web services. Send and retrieve critical information and mobilize business processes. snAPPii has several pre-built XML data connectors and we provide step by step instructions on how to create new connectors to suit your needs.
2. Push Notifications. Schedule and send push notifications to user groups to promote news, events, appointments and special offers. You can promote your business and let clients know the latest news, special deals and other information you want to convey quickly and easily.
3. User Management. Signup and login features to capture user information and control access rights to individual screens and tabs. . snAPPii supports O-Auth protocol for user validation providing the ability to log users in to a variety of web based systems for authentication via LinkedIn, Facebook, etc.
4. PayPal Integration. Shopping cart functionality with Paypal integration allows product, service and membership sales directly through the app.
5. Social Media. snAPPii offers out of the box full integration with Facebook, Twitter, LinkedIn, YouTube, RSS feeds, etc.
6. Custom calculations. Create custom formulas to calculate orders, measure project specifications, and develop productivity tools.
7. Digital Forms. Enables customers to submit data to you 24×7 in the format you determine. Collect, store and send information from customers, partners, clients, and employees. Any business data – documents, photos, GPS locations, digital signatures, etc can be turned into a form for capture.
8. Multi-Language Support. snAPPii currently supports 17 languages: English (U.S.), English (UK), French (France), German, Simplified Chinese, Italian, Spanish, Portuguese (Brazil), Portuguese (Portugal), Swedish, Korean, Japanese, Russian, Arabic, Hebrew, Danish and Dutch.
9. Photo controls. Take, share, e-mail, post and store pictures using the Photo Button. This can be very useful for any number of business and personal reasons allowing visual submission of information quickly and easily.
10. Customizable UI. You have total control over the User Interface down to the pixel level. Unlike a template-based approach, you have control over laying out each element – texts, images, multiple buttons, etc exactly how and where you want them.
11. Testing is an important part of the app development process. With snAPPii, development teams can work collaboratively in parallel work streams. The Snappii WYSIWYG Visual Editor and the live build Preview App enable teams to build and update mobile business apps quickly, instantly view changes on their devices and provide immediate feedback. This dramatically compresses the development cycle, improves time to market, and lowers costs.
12. Quick and easy app updates. Making and distributing app changes can take just minutes making the total cost of ownership with snAPPii a fraction of mobile business apps requiring source code changes.
13. Flexible delivery models for snAPPii are available depending on your organization's desired level of security and control. With the snAPPii Visual WYSIWYG editor:
– The back-end is hosted and managed by snAPPii in the cloud (snAPPii intelligently distributes API calls among the servers and scales based on demand).
– : The back-end is hosted and managed by snAPPii in the cloud, but with dedicated infrastructure and VPN access for increased security and control.
– : The back-end is hosted and managed on your premises or data center, for maximum control and access to local data sources.
Offering next generation native mobile applications guarantees a more immersive experience with your clients, partners and employees, which in turn will help increase visibility and popularity.
By adopting the snAPPii cloud-based app development platform as a key component of your mobile strategy, significant savings can be realized in lower capital, development and operating costs. As well, business agility will be increased as you accelerate your time to market and leverage the reusability of existing services.