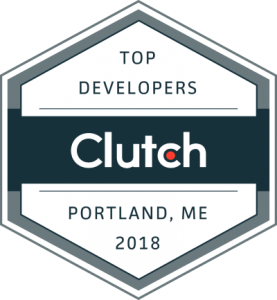 After months compiling research on leading Developers, B2B ratings and reviews firm Clutch published a report that highlights the best in key cities throughout the U.S.
WASHINGTON, DC, July 12, 2018 – Clutch released its inaugural report on leading web, app and software development companies in cities across the U.S.: Nashville, New Orleans, Pittsburg, Baton Rouge, Jacksonville, San Antonio, Milwaukee, Charleston, Rochester, Louisville, Oklahoma City, Albuquerque, Boulder, Hartford, Fort Worth, Portland, ME, Plano, Providence, Richmond, Wichita, Sarasota. Clutch is a B2B ratings and reviews firm and named these companies top-performers after evaluating their services offered, client feedback, work quality, and market presence.
Top Mobile App Development Companies
Nashville: Worry Free Labs, Toptal, PointClear Solutions, Hill Productions & Media Group, Inc.
New Orleans: Apptitude, Revelry Labs, Primtek
Jacksonville: Atmosphere Apps, Hashrocket, feature[23], Station Four, Global Infonet, Brocoders
San Antonio: GEON Analytics, Kinetech Cloud
Albuquerque: Suite Twenty Four, LLC
Boulder: Exadel, Rage Digital, Inc, Gorilla Logic, MojoTech, Dolphin Micro, Lockstep Labs, V16, People Productions
Portland, ME: Snappii, Portland Webworks, FUSEIDEAS
Plano: Impiger Technologies, Copper Mobile, Bottle Rocket, Five Pack Creative, Squareball Studios, ENO8, AppShark Software
Richmond: WillowTree, Inc., NS804, Market Seven, Shockoe, Fulcrum Collaborations
Wichita: Wichita: Flint Hills Group
Top Web Development Companies
New Orleans: LookFar, Revelry Labs
Pittsburgh: Roket, Blue Archer, HUEMOR, Diskriter, Sparkbox, ProFromGo Internet Marketing
Baton Rouge: Primtek
Jacksonville: Hashrocket, feature[23], Station Four, Global Infonet, Wizard Internet Solutions
Milwaukee: Layer One Media, Entrision
Charleston: Fount, Launchpeer, sineLABS LLC
Rochester: Concentrix Corporation, Envative, Shrewd Marketing, LLC.
Louisville: Echobind
Fort Worth Area: The BHW Group, Epsilon, Horizontal Integration, Programmers.io, Belo + Company, SullivanPerkins, The Old State, Wpromote, Enilon, Magic Logix, Agency Entourage, Two Trees Production, Overture Consulting, LLC, Livewire Technologies
Providence: Lullabot, Drupal Connect, Oomph, Inc., Artifex Technology Consulting, Inc., Mojotech
Sarasota: 352 Inc., Toptal, Xplode Marketing, Enterra, Haneke Design, Get Found In Town, GreatCircle Studios, Powered Labs, Inc., The Mad Botter
Top Software Development Companies
Oklahoma City: Allshore Virtual Staffing, MIT Group, Custom Software Lab
Plano Area: Impiger Technologies, Groove Jones, Programmers.io, Copper Mobile, AppShark Software, Overture Consulting, LLC
Top IT Services Companies
Jacksonville: Pragmatic Works, feature[23], Global Infonet, OnDefend
Boulder: Vertiba, Exadel, V16, CRM Command
Hartford: CAL Business Solutions
Plano: Softweb Solutions, Network Elites, Ascendix Technologies, Impiger Technologies, AppShark Software, Overture Consulting, LLC, VISUAL BI SOLUTIONS, Demand Solutions Group
"Having a website, an app or custom software is crucial to being found and making customers happy" said Jeremy Fishman, business analyst at Clutch. "These developers help local businesses with their technological needs in order to stay competitive and ahead of the curve."
The agencies were selected based on Clutch's research methodology, which uses quantitative and qualitative criteria to evaluate each company's technical certifications, experience, and market presence. Clutch analysts also interview each company's past clients to learn how they approach challenges, develop strategies, and execute customized campaigns and projects.
Clutch's research in development companies is ongoing. Interested companies are encouraged to apply to get listed for inclusion in future reports.
Results are a snapshot of Clutch's Leaders Matrices on July 3, 2018. These rankings may change daily and currently may not be reflected on Clutch's website.
About Clutch
A B2B research, ratings, and reviews firm in the heart of Washington, DC, Clutch connects small and medium businesses with the best-fit agencies, software, or consultants they need to tackle business challenges together and with confidence. Clutch's methodology compares business service providers and software in a specific market based on verified client reviews, services offered, work quality, and market presence.