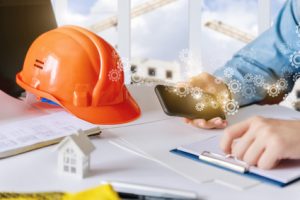 Commercial buildings should go through a number of inspections before they are ready for tenants. Such inspections usually include the following checks:
– building structure and foundation,
– roof condition,
– electrical systems,
– heating systems,
– air conditioning and ventilation systems,
– plumbing fixtures and piping,
– elevators and escalators,
– emergency evacuation systems and fire-fighting equipment,
– interior elements,
– landscape and adjoining territory.
Pen and paper are not a robust solution for this anymore. Modern mobile solutions allow inspectors to conduct any type of building inspection with their smartphones. Mobile building inspection apps eliminate paperwork and help save a lot of time and money. Let's consider it in more details.
New way of data collection
Inspectors had to carry around paper forms or laptops to collect the data. Now, all they need is their smartphone or mobile tablet. Filling in of the pre-made digital forms is a process of just a few clicks. This is fast, convenient and helps avoid mistakes and losses. Inspection apps allow users to collect such type of data as audio, video, GPS locations and photos, providing more complete awareness.
More advantages of building inspection apps
With digital forms and inspection apps, data can not only be collected, but instantly processed, analyzed, shared, and safely stored. Any specialist is able to conduct the inspections of commercial buildings without the need to contact special companies and agencies. Anyone can also generate a complete professional report right at a smartphone to provide to special state authorities if necessary.
Building Inspection app from Snappii
If you are ready to transform your inspections by switching from outdated paper-based processes to mobile building inspection apps, Snappii is the best choice. Snappii offers a ready-made Building Inspection app, which is ideal to perform commercial building inspections for fire prevention, safety, maintenance, storage, occupancy, identify signs of deterioration or failure, avoid risks, etc. Key app features include:
– Interior and exterior inspection
– Checking heating and electrical systems, fire-protection equipment and more
– Visualizing inspections on the map
– Storage of inspection forms
– Creation of complete inspection reports
– Sharing the reports via email or messengers
– Uploading and editing your own PDF forms
The uniqueness of Snappii Building Inspection app is its 100% customization. We can add your own existing forms and make some modifications of the app to meet your specific needs. Snappii offers the most fast and affordable app customization. You can find more building and property inspections apps from Snappii here.
Need a custom app? Build it with Snappii
Moreover, we can create a powerful business app from scratch according to your requirements. We have already helped thousands of companies and continue to provide powerful products to different companies. Our Snappii support team is always available to consult and guide your ideas to maximum profitability. We hold every app we make to the highest standard and provide high-quality service from idea to delivery. Snappii is here to mobilize your business fast! Just send us your requirements and let's start.