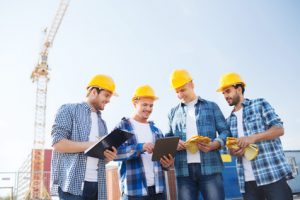 At construction jobsite, safety of workers is the top priority. Modern mobile solutions come to the rescue and help make construction sites safer and avoid accidents. Let's consider how it works.
Stay connected and avoid risks
Knowledge is power, and timely information in construction allows preventing accidents. Modern safety construction apps help employees always stay informed anywhere and at any time. With constant convenient communication with all available mobile features like video, audio, photo, GPS, workers and managers will miss nothing. Also, just a push of a button in the app can instantly report a hazard and protect the whole construction team and the project.
Conduct inspections regularly
Construction workers rely on the equipment, machines and vehicles to work efficiently and safely, and the company should provide constant in-order and safe operation of all tools and equipment. Mobile construction apps allow conducting various timely inspections to maintain all work aspects, reduce the risks and contribute to a more productive workflow. They provide convenient mobile checklists, fast data collection, instant reporting and more. Read more about mobile inspection apps required by work at the jobsite here.
Maintain company's stability by constant reporting
Safety directors and managers are entrusted with a huge responsibility. In addition to the general control of workplace safety, they must report about it to the highest authorities. Mobile safety construction apps allow them to get complete professional reports from all departments and personally from each employee on a daily basis. Clear and timely reporting is a guarantee of company stability and legal protection of both the company and its employees.
Why Snappii when it comes to construction apps
Today more and more builders and other construction professionals appeal to construction apps for various purposes. Today Snappii is a leading mobile business apps company with more construction apps than all construction software companies combined. We help modern construction companies save time and focus on the job instead of IT. After working in the industry for years, Snappii now believes they have a mobile solution to fit literally any problem.
Snappii offers powerful apps to ensure safe construction workflow and meet any requirements. You can find such ready-made apps as Construction Daily Log app, Punch In / Out Timesheet app, Construction Manager app, Construction Estimator and Bidding app, Heavy Equipment Inspection app and more. The main feature of all Snappii construction apps is their 100% customization. Any app can be modified specifically to your needs and contain a unique functionality. Moreover, we can add your usual work paper forms right into the app and convert them into the digital format. Steven Koski from Harold Brothers says: "Thanks to Snappii, we moved away from paper forms and are quite pleased with the result. Now it literary takes a few minutes to fill out the report, sign and send it." Construction industry is in demand for high-quality powerful apps and this demand will rise. We don't stop and also develop and are ready to a new step.