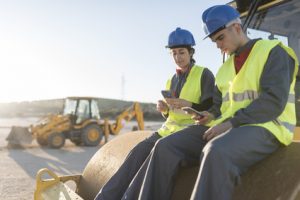 The construction is one of the most on-demand sector and needs robust and efficient heavy equipment that comply regulations. Regular proper maintenance of construction heavy equipment helps lengthen equipment life, minimize repair costs and improve work productivity. Proper maintenance includes constant inspections. Even a small malfunction can lead to a harm of the entire production site. Modern mobile technologies provide some solutions to help companies keep their equipment running. First of all, it is special heavy equipment inspection apps.
Such inspection apps allow users to conduct detailed inspections on-the-go covering each major system and component of heavy equipment. For example:
– visual inspection,
– undercarriage inspection,
– fluids inspection,
– exhaust inspection,
– safety compliance inspection,
-etc.
Accelerate and optimize heavy equipment inspections
Modern heavy equipment inspection apps allow technicians, inspectors or other specialists to capture any data into special pre-made mobile forms. The app can contain a special separate form for each type of inspection. Specialists don't need to carry piles of paper or bulky laptop in the field and they can use just their smartphone.
Snappii is a leading mobile business app development company, offering business process automation and field process apps used predominantly in construction, inspection, delivery, inventory and work order sectors. Besides the ready-made Heavy Equipment Inspection and Track Construction Equipment apps, Snappii offers the fast and highly professional custom app development. It can be an app created specifically for your needs while conducting the heavy equipment inspections. We can even add your existing paper forms right in the app converting them into powerful digital forms. Don't be limited by just an opportunity to collect data. With Snappii apps, you can instantly process this data, create complete professional reports and send them via email or any messenger.
Get a comprehensive picture of your heavy equipment with mobile inventory
How you manage your heavy equipment can determine a success of the whole business. Heavy equipment inventory is an important process, especially in the companies with large fleet. Mobile solutions have penetrated and brought significant benefits into this process, as like as into inspections. Heavy equipment inventory apps help track the equipment, conveniently and safely store all the data, control costs and maintain efficient workflow.
Snappii offers a ready-made Heavy Equipment Inventory app to keep an accurate inventory quickly and easily without outdated and inefficient paper processes. Thanks to this simple inventory app, you will be able to:
– sync captured data across multiple devices,
– capture photos, text, locations,
– generate powerful reports,
– share the reports via email and upload to cloud drives.
– work online and offline.
If you need any customization you can always send us your needs and our team will modify this app for you.
It is prudent to maintain heavy equipment in the best way possible to avoid breakdowns and service interruptions, increase the productivity and profit. Mobile apps is the best modern assistance in this process. Make sure of it right today.