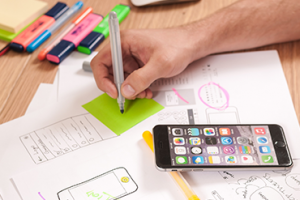 Mobile apps have become the main focus of many businesses, from restaurants to the construction industry. Aside from the aesthetics, apps can work as a tool to streamline all facets of the businesses, helping them improve production exponentially. Traditionally, the cost of creating apps is very expensive, so it is difficult to retain a high ROI in the field.
Definition of ROI
Return of investment, according to Wikipedia, is the financial benefit an investor receives from a particular investment. ROI is a performance measure used to evaluate the efficiency of an investment, or to compare its profit to other investments. In the business apps world, measuring the ROI can help to increase such metrics as customer value, customer engagement and retention, audience engagement – the list goes on.
Measuring ROI in business apps
For a quick overview of the ROI for a certain product, one can use the development costs and the key performance indicator (KPI). KPI is a type of performance measurement. It is usually evaluated by measuring the success of a certain product, but this can differ across organizations. Some examples of metrics used in KPI are customer loyalty, the amount of defects and net revenue. Comparing the KPI and the development costs will give you a good idea on how effective your product has been in the market. Also there are multiple equations for mobile app ROI measurement. You can find some of them here.
Success does not have to include a lot of expenses. Snappii, a codeless app development company, allows anyone to create powerful mobile apps for a fraction of what it would take to hire a team of developers. Now, you can provide your business with a mobile solution that does not require coding or deployment. Snappii puts the power in the hands of the user, and enables them to make a complete business application in as little as a few hours, so they can see an improvement in their business in days. And we are sure that ROI of Snappii apps will be high. Try it right now!