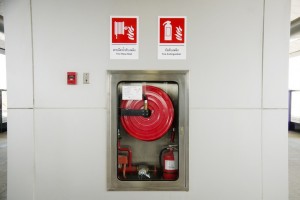 Maintaining fire-fighting equipment should be on every company's agenda. Fire is one of the leading causes of property loss in the United States. A report released by the US Fire Administration in 2015 stated "an estimated 377,900 building fires are reported to fire departments per year. These fires were responsible for around 2,634 deaths, 12,525 injuries and over $7 billion in property lost".
Safety first
Fire is the leading cause of property damage in the workplace. If not properly prepared, the result can be serious injuries, or even fatalities. Fire prevention, although usually neglected, play a vital role in the life of any enterprise.
There are usually two elements in fire safety. General Safety measures include informing employees which route to go in case of an emergency, safety behavior in workflow and having periodic fire drills. Fire Equipment Safety measures check fire extinguishers and other tools to make sure they can still perform in a crisis.
Inspection apps for better fire-fighting equipment maintenance
Regular inspections and maintenance of fire-fighting equipment can be made easier with a digital platform. Storing and processing the information can be done in the form of pictures and forms, which can be emailed to coworkers and kept in a digital safe-box where not even fire can get to it. Specialized mobile apps can do more than just check your fire extinguishers and equipment. Snappii offers a wide range of features like the ability collect data across multiple devices, keep inventory of all equipment, uploading inspection reports to cloud drive, work offline and online and even map and GPS features. You can find these functions in ready-made Fire Extinguisher Inspection app. Snappii can customize an app to meet any requirement, even outside of the spectrum of inspections. Visit our website for more information.
Take care of fire safety with Snappii's inspection apps.