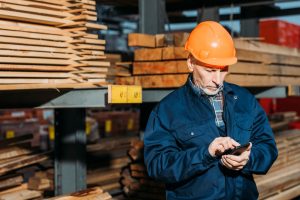 For a long time paperwork was a mandatory component of the workflow, regardless of the industry. More specifically, every industry uses paper forms to drive its processes, such as inspection, estimation, reporting and more. Gradually, companies and organizations came to the conclusion, that paperwork is inefficient, it takes a lot of time and money and decreases the productivity. About 17% of printed pages is lost each year. Filling out paper forms requires extra time, and sometimes even a special employee. Such data is inaccurate and the way of its collection is insecure. Also, we can talk endlessly about the inconvenience and unreliability of paper storage. Keeping in mind all these cons of paperwork, many industries make a shift to a digitally focused solution – mobile forms. Here are 2 main challengers to get the most from mobile forms.
The new way to carry out any construction project
Construction industry is an active user of technology. Let's find out what benefits mobile forms provide to this huge industry. Mobile technology came to the construction with the promise to improve jobsite efficiency and bridge the gap between the jobsite and the office. And nowadays, thanks to mobile solutions, construction professionals have a such long-awaited mobility. Special construction apps allow specialists to make a plenty of operations right on their smartphones anywhere and at any time, quickly and easily. For example: project management, various inspections, estimations, invoicing, reporting, tracking of workforce, materials and work progress and more. All that used to require long paperwork, now can be done in a few clicks at any mobile device. Pre-made construction mobile forms can be instantly filled out, processed and sent. It saves a lot of time and money, contributes more efficient workflow and project completion on time and budget.
Instant acceleration and optimization of transportation and shipping
Transportation and shipping is another industry, which get tremendous advantages of mobile forms and apps. Transportation companies have vehicles and fleets, which need to be managed, inspected, controlled and maintained. Mobile forms allow specialists of this field to be proactive, avoid delays and incidents, and streamline different operations. Mobile apps for transportation and shipping can significantly reduce costs. No need to buy special software, hire specialists for it and adjust the workflow. Anyone can use various mobile forms right on their smartphones.
Implement mobile forms to your business in a few minutes
Snappii, a business app development company, helps companies of different industries for about 9 years. Modern demand on mobile solutions can't be overlooked, and recently we have released a unique Form Converter to let anyone create mobile forms themselves without special skills and efforts. Any specialist can use existing PDF form or report and convert it to its digital version. Snappii Forms app allows instant utilization of this form on a smartphone. For more convenience, we provide a huge collection of pre-made form templates, which are ready to use.
Construction and transportation are one of the main directions for us and you can find such ready-made forms as:
– work order form,
– construction estimate form,
– roof inspection form,
– daily log form,
– bill of lading form,
– vehicle inspection form,
– driver's daily log form,
– etc.
Try Snappii Form Converter right now or send us your form and we will help you convert your first form free.