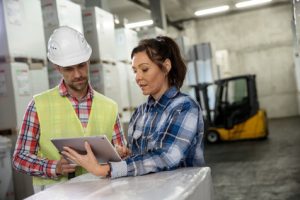 Last years have seen a dynamic activity and interesting industry trends in the transportation and logistics industry. The industry is transforming to reap the benefits of new tech advances, particularly mobile solutions.
Optimize logistics operations with mobile apps
Mobile technology is one of the most effective methods of reducing costs in logistics field. The fuel prices rise and it forces companies be at the risk of extra costs and losses. Accurate optimization of delivery routes and workflow helps avoid it. Mobile apps for logistics operations provide the most convenient and agile way of tracking, scheduling, collaboration and reporting. Drivers can share their GPS coordinates, fuel consumption and any delays. Using such instant data, operators can help improve routes, avoid reasons of delays in future, etc.
Avoid extra costs of staff maintenance
Mobile logistics apps can also help reduce cost of staff maintenance. A powerful management app can be a good assistant and eliminate the need to hire additional staff. It allows users to assign tasks, make necessary calculations, track the progress and generate the results into complete reports. Streamlining of communication can help save time and avoid extra work.
Advantages of digital warehouse management
Warehouses are one of the main participant of logistics operations. Their maintenance is also one of the biggest expenses for company. Many companies still manage warehouses and take inventories manually with paper forms, which contribute regular cost stream. With warehouse management apps, these costs can be reduced in half. Mobile forms allow specialists to refuse from paper and costs of its maintenance. Moreover, warehouse management apps are the most safe and convenient way to store data, which is available 24/7.
Find the best logistics and warehouse management apps
Snappii, a mobile business app development company, works with various industries, and logistics and warehousing are among them. We are trusted by thousands of companies, and we continue develop and provide innovative solutions. You can find some of our ready-made mobile apps here. For example, Warehouse Inventory and Shipment app is the best tool to assist warehouse managers and other specialists and improve different operations. It allows users to make quick inventories, create supply records and pick lists, track goods that are shipped in and shipped out, generate reports and more. All Snappii apps are 100% customizable and can be changed and added by some features, according to your specific needs.
Be the first to try. Snappii's Brand New Solution
Our just released innovative feature is available and useful for any specialist. Now anyone can replace inconvenient paper forms and fill them out on a smartphone. The basic feature of Snappii Form Converter is a combination of simplicity and power. It doesn't require any tech skills and it is extremely easy in use. However, along with this, the Converter provide all necessary tools to create a complete form app. Moreover, its uniqueness is an opportunity to use existing forms and reports and transform them into the digital format. Just watch how it works. It will take a few minutes to convert your own form. Also we've created the gallery of pre-made form templates, if needed. Start your work with Snappii Form Converter right now! No credit card needed. You will have free forever account and live help on your first form. Join the digital world already today!