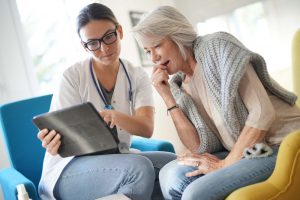 Almost 54 million seniors today make up approximately 20% of the total U.S. population. Senior care industry undergoes a significant transition. A majority of seniors prefer to be cared for in their homes. Home care services may include nursing care, physical and occupational therapy, and social work. Such care is more individual and less expensive than nursing homes with accommodation fee. This way, this field is huge and growing rapidly.
Documentation requirements and paper captivity
To be successful and productive, any home care agency should have skilled and job loving staff. However, this is not all. Modern home care agencies must be legally executed and operate in a strict accordance with the following:
– State and federal homecare regulations,
– Medicare certification or accreditation,
– Area business laws,
– and more.
All these compliances, inspections, reports, etc. require constant paperwork, costing agencies precious time, money and resources. The question is how to make sure your documentation complies with the terms and regulations and not to drown in paper? And the next question is how to focus on the patients, improvement of the care service and business growth at that very moment?
Paper-based processes hold agencies back. They should look for opportunities to streamline and automate their operations. And modern mobile technologies have a smart solution for this. Snappii, a leading mobile business app developer, is introducing an In Home Care Providers app. The app allows users to work with various documentation right on their smartphones or tablets.
Avoid paperwork and focus on the main thing
Some time ago Sunny Days In-Home Care company contacted us and asked to help optimize their work with documentation. Here is what John Bennett, Executive Director says: "Our field staff is able to collect documents and have them emailed to our office staff and stored in our cloud instantaneously. This has reduced travel back and forth to our office, mailing of documents, and scanning of documents. This has saved our company both time and money. Also, the state is constantly changing policies and we can make quick adjustments to our documentation within the app so that our staff is immediately using documents that meet the requirements for compliance. It has enabled us to scale our business at a rapid rate. We have grown quickly enough to be an Inc. 5000 company four years in a row, that wouldn't be possible without Snappii." This way, one app helped to cope with a significant problem and get the opportunity to focus on business development.
In Home Care Providers app is now available for everyone. It provides 30+ ready-made forms for caregivers and clients, which allows slashing the documentation time in half. Also you can add your own forms. No need to hire people to process and move paper around. It is easy to train how to use the app. Learn more and try In Home Care Providers app already today.
Paper-based documentation is inefficient and error-prone. Home care agencies that strategically implement digital technology attain significant success like Sunny Days In-Home Care.