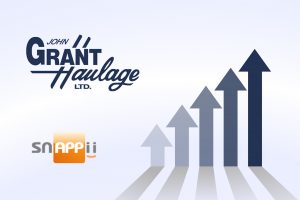 Nowadays modern mobile technology can help in warehouse management and there are plenty of useful opportunities provided by different warehouse apps, and warehouse inventory is one of them. If you want to keep your warehouses in proper conditions, improve inventory control, save money and decrease loss, then Snappii, a rapid mobile business app development company, has a great solution for you.
Snappii, a leading Mobile Business Apps company, helps to design, build, and deliver feature-rich business apps and form apps in days versus months without any coding skills.  Any business app and form app can be created quickly, easily, and affordably. The platform also makes it easy to manage Apps and make ongoing changes.
Over 10 years Snappii has been helping businesses improve workflow, save time and money on data collection and processing, as well as boosting collaboration and communication between the teams. Recently, John Grant Haulage Limited turned to Snappii with the request to create a mobile app that would help manage their warehouse and inventory. Snappii already has a ready-made app for Warehouse, so it took just a few weeks to customize it and roll it out to the customer.
"Snappii produced satisfactory deliverables. They asked the right questions and quickly developed a deep understanding of the project. We decided to work with them again on another development project. We highly recommend Snappii." ~ Ralph Shepley, VP at John Grant Haulage Limited. Watch the full video case study here.
We are extremely grateful to John Grant Haulage Limited for the high appreciation of our work. If you want to improve your business processes and automate workflow, feel free to reach out to us. We have been in the mobile app development business for over ten years and have helped many companies archive better results. Snappii has a large library of 200+ ready-made mobile apps and forms that can be modified to your needs. Additionally, Snappii offers custom app development that is fast and affordable. Contact us with your requirements.