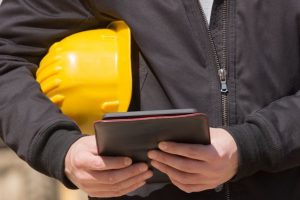 The construction industry has been one of the fastest-growing on the market. Taking that into account, construction businesses are constantly fighting for new customers more than any other industry. The competition is huge and businesses need to provide a perfect first impression to be chosen. Practice shows that the customers select a construction company to work with based on several factors:
– a decent website or a mobile app
– portfolio with completed objects
– speed and accuracy of the project estimation
– customer satisfaction
While having a website or a mobile app has long ago turned from "nice-to-have" to "must-have", many companies lack the ability to provide timely job estimates to clients, thus losing opportunities to win more business. Let's take a closer look at the top benefits your construction company will gain using a mobile app:
– generate professional estimates and invoices in minutes
– win more jobs
– get paid faster
– improve team collaboration
– analyze powerful daily reports from your team
Daily reports enable you to make quick decisions, ensure your projects are on schedule if your dates are slipping understand why. Did you know that an average construction employee spends up to 60 minutes a day filling out a paper daily report? That process will certainly not help you quickly understand if any project is off the schedule. Paper reports are hard to read, they can get lost, it takes time to deliver them to the office. After a long hard day at work that's the last thing you want to do.
Snappii has been helping construction companies improve their workflows for over 10 years now. Recently, we have helped a Construction Company from Austin, TX:
"We wanted to develop a mobile app to help track construction progress on our jobs, and purchase orders. Our goals were to increase cost efficiency and productivity tracking.
Snappii had good flexibility, and customization when it came to app production and meeting our overall needs.
The app they created for us also helped reduce the amount of paper consumption throughout the company and allows us to maintain real live data for our management team.
Since Snappii has joined the project, the client's purchase order and daily log activity from end-users have increased significantly. The team has addressed issues immediately because of their seamless communication skills. So far, they have met all of the project's deadlines and goals."
Watch the full case study here. Want to gain significant results? Schedule a free demo with us here.