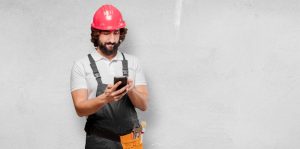 Today many field service companies, especially such as cleaning services, pest control, plumbing, HVAC more than ever need special mobile apps to run their operations on a day to day basis. An exceeding of customer expectations by providing fast and high quality service starts from the optimization of operations. Timely and accurate data will help with this.
Daily reporting is a starting point for most improvements
Daily reporting is a key process of any field service. It provides a timely knowing of what happened, when it happened, why it happened, where it happened, who or what was the cause, what actions were taken, etc. A grasp of accomplishments and problems on a daily basis enables to avoid issues, make work faster and be more productive.
Less paperwork and more time for more qualitative service
Paper reporting is absolutely inconvenient for field services. Such documentation requires processing. Notes coming in from the field are often hard to read and data can be inaccurate and untimely. Moreover, paperwork slows down technicians' work. That's why mobile reporting apps are an essential tool for modern field service employees.
Mobile reporting apps are able to completely replace paper forms, clipboards and laptops in the field. Smartphones are always at hand, and with a smart reporting app, the process takes only a few minutes. Anyone can do it anytime and anywhere. Accurate and timely reports contribute to better decision making and changes, which streamlines the service.
Meet a smart reporting app in your pocket
Snappii, a leader in mobile field apps, can become the best assistant in the improvement of your field service business. Meet a Field Service Daily Log app. This reporting app is designed to create daily log reports in the field with limited Internet connection and lack of time. The Field Service Daily Log app is a digital analogue of paper daily logs and reports. With the help of the Field Service Daily Log app professionals working in the field can easily fill in all necessary details including the ability to:
– specify contact details,
– take/upload pictures,
– add location,
– perform calculations,
– put time stamps,
– add signatures,
– convert forms into complete reports.
The employees get a custom looking PDF file each time they create a new report. These PDF files can be emailed, uploaded to cloud drives and printed out. Get more information about the Field Service Daily Log app from this short video.
A significant point is that if the ready-made version of the Field Service Daily Log app doesn't work for you, Snappii team can customize it for you. We will meet your personal needs and requirements. We offer the widest range of features. Our Snappii support team is always available to consult and guide your ideas to maximum profitability. Just contact us.
The right mobile apps offer operational improvements, and the end and the most valuable result of these improvements is better customer service. Better service – rise of a profit. Start innovative changes in your field service business with Snappii. We know how to help you move to the next level.