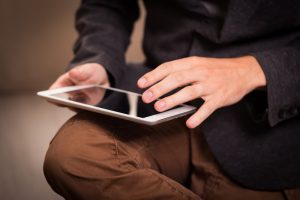 Effective invoicing allows businesses to maximize the cash inflows. Today streamlining invoices has a central role in determining the success of a company. Mobile technology is a major way to improve invoicing system.
The challenges of paper-based invoices
Paper-based invoices are no longer effective. They are time-intensive and often error prone. Cycle time for paper invoicing is usually very high. Many businesses have to generate invoices in the field. It's extremely inconvenient to fill out paper documents while you are at the jobsite. Invoices need to be validated and confirmed. With paper invoices you can't avoid trips to the office. Paper invoicing is wasteful. You can easily calculate how much you spend on paper, its printing, storage, and the time and labor resources to fill it out. The resultant sum of money will not be superfluous for your company.
Mobile technology offers special invoicing apps and mobile invoice forms that will ensure producing professional invoices with all the information required. There are a lot of advantages users will get.
Instant invoicing = faster payments
Probably the greatest advantage of mobile invoicing apps is their digitization. With pre-made mobile invoice forms, users can generate invoices in a few clicks and instantly provide them to the customers. Mobile invoicing is a significant saving of time and effort. No more constant trips to the office. Specialists can spend more time on real work and making money.
Keep invoices at your hand
Mobile invoice forms can save 60 minutes a day on their filling out. Mobile forms are also safe and easy to store. They are always at your hand. Companies can avoid file cabinets and reduce specialists to work with paper documents.
Accurate and timely data
Invoicing apps contribute to more accurate and timely data. They eliminate bad handwriting and untimely delivery of data. In general, it increases the efficiency of the entire workflow.
Invoice Assistant App: a new way of invoicing
Snappii has been working in the business app market for about 10 years. We try to help optimize various operations. Invoicing is among them. Snappii offers Invoice Assistant app to create professional-looking invoices in the office or in the field. This simple but intuitive mobile invoicing app will be always at your fingertips. With the app you are able to:
–  create, edit, email and print invoices,
– add your company's logo,
– add products and services,
– calculate total prices and costs automatically
– instantly add taxes and shipping costs to your invoices
– digitally sign invoices
– retrieve PDF and Excel invoice reports, print and share them,
– keep a database of completed invoices,
– work in online/offline mode,
– sync as many devices as you want.
Invoice Assistant app is 100% customizable. Snappii team can easily modify it for you and add your own existing forms. We try to meet all needs of our customers to make their operations faster, more efficient and productive. Send us your requirements and ideas and we will discuss them.
Invoicing system has never been so convenient and optimized. It's the best time to join mobile solutions and try Invoice Assistant app. Watch a short video to learn more how the app works.