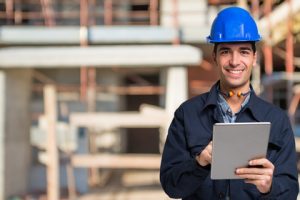 Construction projects are the platform for disputes of different specialists and conflicting claims often arise between the many parties involved in the process. Some of these construction disputes transform into the litigations. It is a common practice and should not be treated like a disaster. However, construction companies are able to protect themselves and their employees in advance and have peace of mind when litigation comes.
What Snappii can offer to You
Accurate contract and project documentation is the best way to avoid litigation. Superintendents, foremen and project managers try to get the reports at the end of each day. However, it takes a lot of time from field workers to make the reports and drive them to the office. Moreover, inaccuracies and mistakes are not a rarity in manual filling of the paper forms after a hard workday.
Snappii offers the simplest way to create professional daily reports in minutes at anytime and anywhere. Construction Daily Log is a convenient, powerful and easy-to-use mobile app, which allows users to capture any information and create professional reports right at their smartphone or tablet. Hold your team accountable for daily updates!
How Snappii Construction Daily Log App works
You only fill in the sections you need in a one-page collapsed form. The app captures weather conditions, locations, date and time, amount of labor performed and other field related information. Construction Daily Log app includes contractor details, site information, work performed, subcontractor progress, issues and punch lists, reasons for delays, additional work or change requests, materials purchased and received, labor and travel hours and more. Don't want to type? Hit the mike and speak into it. It translates your voice into text. The app works offline and syncs when the Internet comes back. Track labor hours for employees and subs. You can attach any document and pictures to highlight progress or show problem areas and share them with others. Watch the video to learn more about Construction Daily Log app.
By utilizing the Snappii Construction Daily Log app users will have the following benefits:
– Improve project documentation
– Accelerate making the decisions
– Be prepared for litigations
– Get paid faster
– Increase efficiency of the workflow
– Optimize the communication between field teams and office employees
– Eliminate paperwork and lost forms
– Save time and costs
And some more good news
Recently Snappii has released a much-improved version of Construction Daily Log app. It is even easier to use and offers snappy performance. It is already available in the Apple App Store and the next week we will release Android updates. Our monthly plans start at $15 and are based on number of users. The more users you have the better the price. Also Construction Daily Log app can be configured to match 100% of your company's specific needs. Just send us your requirements and existing forms and get a free quote. Snappii creates apps in days not months! Have any questions? Contact our support team at any time at support@snappii.com or call us +1888-707-6633.