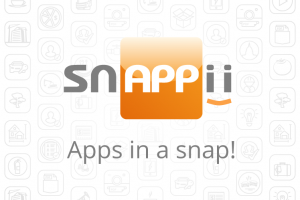 Abby Perkins is Editor in Chief at Talent Tribune, a Software Providers blog dedicated to jobs, workplace culture and HR technology.
Over the past decade, technology has become commonplace in human resources departments nationwide. In many cases, everything from processing payroll to tracking workflow to delivering performance reviews is done using technology.
High-tech tools (like Snappii's own HR app) are commonplace in human resources. What many companies have yet to apply technology to? Their recruiting efforts. But it's not because the technology doesn't exist. There are multiple programs and systems on the market that can help take your recruitment efforts to the next level and find talented candidates for any position.
Below, we've put together a list of 5 of the best tools available to improve the way you recruit:
1. Gild
Gild is a recruitment tool that allows companies to source new tech talent through its state-of-the-art search feature. The program scours the Internet for candidates who have skills and experience that matches up with open positions. This data-driven approach allows hiring managers to not only increase their pool of available candidates, but also to know from the start that these candidates are skilled in critical areas.
2. TalentBin
Another high-tech recruiting tool is TalentBin, which allows users to search for passive candidates who aren't actively on the hunt for a new job. Passive recruitment allows recruiters to reach thousands of people who have the skills to fill open positions, and who they wouldn't be able to find otherwise. The site features a high-performing search engine that allows users to focus their employee search to exact phrases. TalentBin also gives recruiters a comprehensive overview of each candidate, before they decide whether to contact them.
3. Dice OpenWeb
OpenWeb, from Dice, is a popular choice for those looking to recruit for tech-based jobs. OpenWeb gives you access to social data from more than one million candidates, and allows recruiters to get more insight into what those candidates are looking for. In addition, this program helps users understand candidates in a way other programs can't replicate. Open Web is also integrated with many popular social media sites, giving you even more access to top candidates.
4. Entelo
Entelo is a high-tech option for those seeking out new ways to recruit top talent. This program gives recruiters access to more than 30 million candidate profiles that are sourced from some of the top online job boards. Some of the special features of Entelo include the ability to source candidates via proprietary search tools, and the ability to view an entire candidate's profile with one click. The site also offers predictive tools that forecast when a candidate will be ready to move into a new position.
5. HackerRank
Some people use HackerRank to hone their coding skills, but hiring managers use it to recruit engineers and developers. Resumes only tell recruiters so much about actual skills – HackerRank allows recruiters and hiring managers to evaluate candidates on a different level. Recruiters can set up their own coding challenges for prospective hires, score them, and even rank them in competition with each other. The site helps save time and money by making the candidate evaluation process more sure.
These are only a few of the many high-tech options available to recruiters, so be sure to do some research and find the platform that best meets your needs.
Do you use high-tech recruiting tools? Which ones are your favorite?