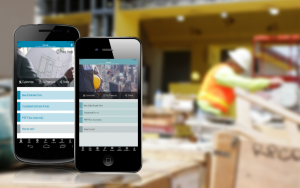 Now every construction company can afford to use Mobile Apps to save time and increase productivity.
ROCHESTER, NH. Most construction work gets done in the field and just about everyone has a smartphone. Construction Daily Log, Estimating, Operations and Tasks management, Equipment Inspection and many other tasks can all be done using Apple or Android Apps. Snappii, which has over 200 business apps in Apple and Google Appstore, is making the Apps Free. All apps are absolutely free to download in App Store and Google Play and can be 100% customized to specific needs of each company. Thanks to codeless DIY app Builder customers can build or customize apps without any programming.
Snappii offers powerful ready-made construction apps for different specialists to accelerate and improve their work. For example, with Construction Manager app managers can:
– control construction projects
– make necessary estimates
–  track working hours
– update and track project progress
–  perform specific calculations, etc.
Using Construction Daily Log app employees are able to:
– create and report daily work logs
– evaluate the amount of work that was done
– get push notifications with relevant alerts, etc.
Construction Blueprints and Drawings mobile app allows users to:
– quickly add project photos, notes, drawings and save on the device
– create a database of projects
– draw a project from scratch
– discuss ideas and experience in a community forum.
Contractors, service companies, salespeople and estimators can use Construction Estimator and Bidding app and:
– quickly create on-site estimates for construction and repair projects
– quantify material, labor, subcontract and other costs needed to complete a construction project
– do all the calculations, so once all the data is entered in, the user will get the total estimated project cost.
With the help of the Construction Change Order app workers can
– create change orders on the spots
– make a list of supervisors
– assign orders to them
– track supervisor's feedback and proposed changes in case of rejections.
Construction Calculator app includes a bunch of helpful calculators that can be used in the field with no internet connection. The app supports both US feet and European meters and the metrics can be easily switched in the app settings.
For work with construction equipment, Snappii offers Construction Equipment Inspection app. The app helps inspectors create quick mobile inspections and maintain equipment in proper condition. Also Snappii has a great solution for equipment's inventory.
Track Construction Equipment app is specifically designed to create an inventory of construction equipment, track whether this equipment is used on a construction site or not. Scanning bar codes or using keywords, users can add new construction equipment or search through a list of the available items.
All these construction apps are available for free download from Apple and Google Play Stores.
There are even more useful apps at Snappii website http://www.snappii.com. Moreover users are able to order custom app development and get a ready-made product just in a few weeks. All apps can be customized and added with necessary features just in a few days. Snappii allows customers to increase company's efficiency, optimize the workflow, reduce costs and improve the business. The combination of reasonable price, quality and high speed of work will benefit any user.
About Snappii:
Snappii is a unique instant mobile solution for business that offers both a platform to create mobile business apps without programming in days, not months, and a wide selection of ready-made industry specific apps that can be downloaded from the iTunes and Google Play stores at no cost. Over 20,000 apps have already been built on Snappii by large, medium and small companies. Learn more athttp://www.Snappii.com