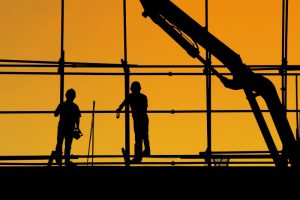 Inefficient work with construction labor and resources can result in low productivity and financial losses. It is important for contractors and construction managers to clear evaluate the productivity of the equipment and the laborers in different processes. They bid a scope of work and payment based on this evaluation. There are some factors affecting labor productivity losses on a construction project. An accurate management and timely response can help avoid or adapt to them and reduce any losses.
Weather
Adverse weather is one of the causes of lost productivity on a construction project. It is difficult to deal with this factor, but it is quite possible. The construction project contract can contain some special points about additional time for "unusually severe weather". This will reduce the negative impact on the schedule and finances.
Poor project management
Diverting from plan, mismanagement, changes in scope of work, increase in manpower or work areas without right supervision can lead to loss of labor productivity. The way to fight with this is a clear and accurate management of reliable managers. An ability to keep every aspect under control is not just an advantage but a strict necessity.
Attitude and positive atmosphere
Stress and unfavorable atmosphere on the jobsite may create an environment that doesn't contribute to productivity. Increasing conflicts between the workers, disputes, over-inspection, excessive hazards, multiple contract changes, poor site conditions, disruption of work rhythm and more can even lead to the failure of the project. Encouragement, discipline and communication are the ways of smooth construction projects without productivity losses.
Hazardous work area
Another important factor that contributes to the loss of productivity in a construction project is a hazardous work area. Workers may face special safety requirements, usage of special equipment and various restrictions. It is advisable to take these into account at the planning stage in order not to face delays and additional financial expenses.
Mobile solutions for smooth construction projects
It has long been proven that mobile solutions are a tool which contributes to increase of efficiency at the construction projects. Special construction apps can help avoid labor productivity losses and complete projects in time and on budget. Snappii is a leader in the market of construction mobile solutions and offers a plenty of ready-made apps with a set of impressive features. Most of Snappii's construction apps are customizable and can be easily and quickly modified to meet any needs. Also Snappii team is ready to create a custom app from scratch in accordance with specific requirements. Contact us here to learn more and discuss.