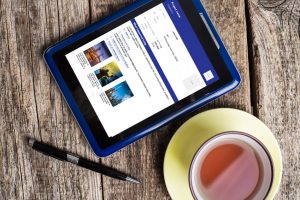 Upload digital forms into the new Snappii Field Reports and make an app for any business instantly. Convert paper forms to apps in about 10 minutes.
Snappii, a company that has been making business apps since 2012, announced its new solution for businesses that want to utilize app technology to substantially boost their efficiency. Using the Snappii platform, even someone who knows nothing about coding can create a mobile form in as little as 10 minutes. It is the easiest way for companies to reduce, and in some cases replace, reliance on paper forms.
Snappii's revolutionary solution removes all the barriers for organizations to replace paper forms with mobile apps. The cost, time and work required is no longer an obstacle in moving from PDFs or printed forms to iOS or Android based mobile forms. The transformation is instant and requires minimum effort.
Snappii Field Reports solution makes the transition from paper forms to mobile apps as easy as possible. It cuts the amount of time, and the costs involved, from converting a form into a dependable app. All Snappii apps work on both Android and iOS without incurring any extra cost, so sharing the mobile app among co-workers is as easy as sending an email.
By simply loading existing PDF forms into the Snappii Field Reports, PDF files become business workflow apps in about 10 minutes. There is no need to be a programmer or have software coding skills.
Snappii Fields Report solution is visual, and has tooltips to help along. If all else fails, Snappii support is just a click away.
Creating a form is simple:
Scan existing paper forms and convert them into PDF files
Load the PDF forms into the Snappii Field Reports
Move the desired fields into the form
Instantly publish a private app and invite users with a click of a button
Run the app on an iOS or Android mobile device
Once forms are uploaded they can be instantly:
Modified to fill in required data
Filled out and shared with co-workers via email or cloud drives
Stored locally on a device or on cloud drives such as Dropbox, Box, Goggle Drive and MS OneDrive or printed
Additional capabilities include:
Signature capture fields
Additional fields to capture text and numbers
Adding radio and multiple choice buttons as well as checkboxes
Adding audio and video recording options
Besides loading existing PDF forms into the Snappii Field Reports, users can create forms from scratch. Snappii's powerful Field Reports solution enables users to build forms that utilize:
Text/numbers
Dropdowns
Checkboxes
Radio buttons
Images/logos
Date/time
Email/phone/website/address
Signature/draw
Map/GPS
Photo capturing
QR/bar code scanner
Audio/video
File upload
Price/SSN
Etc.
Once completed, forms can be shared with anyone via emails, cloud drives, or even text messages. The final form can also be printed wirelessly, making it an invaluable tool for the field worker that is always on the road. The Snappii Field Reports has a modern design, and should be easy to understand even at first glance.
The Snappii Field Reports solution is offered with a free 15 day trial. Subscription prices vary, but start at just $10 per user per month, allowing even a small business to operate entirely off a smartphone. Apps will also work on desktop devices if a HTML5 copy is requested.
One of the biggest benefits of switching to a mobile app is that it allows businesses to improve their means of communications. Processes become more efficient because the amount of time it takes to get accurate information, from Point A to Point B is almost nonexistent. This accelerates the pace of activity and approvals, while relinquishing the dependence on paper. Snappii Field Reports can ensure that companies will say good-bye to lost paperwork, or inaccurate data.
"Every business has forms. By loading existing forms into the Snappii Field Reports, we have enabled any organization to instantly go mobile on their iOS or Android mobile device" said Alex Bakman, Snappii President and CEO, "Now paper forms can be replaced with mobile apps for as low as $10 per user per month."
Try Snappii at no cost at http://www.Snappii.com.
About Snappii:
Snappii is a leading Mobile Apps company for Business Apps. Over one million people use Snappii Business Apps in 30+ Industries around the world. Snappii has over 400 business apps in 30 industries available for download for free on Apple and Google Play stores.
All Apps are powered by the Ultra Fast, No-code Snappii App Builder Platform which enables native App creation 30 times faster than coding and costs a fraction of hiring Mobile Apps Developers. Learn more at http://www.Snappii.com.