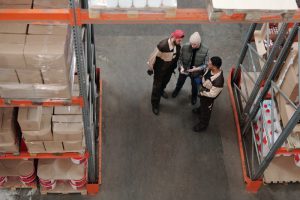 Today many warehouses leverage automation to improve efficiency and streamline such regular activities as inventory. However, to achieve these benefits, companies should choose technologies that are easy-to-implement and meet all specific requirements.
Automate warehouse inventories with Warehouse Inventory & Shipment app
Warehouse Inventory & Shipment app from Snappii is the best pocket tool to automate warehouse inventories and conduct them in minutes right on a mobile device. This ready-made app allows users to:
– add the items to the form manually or auto-fill them from the stock,
– check shipment information and track goods that are shipped in and shipped out,
– use a bar code scanner,
– add and track warehouse logs,
– take and add pictures,
– show locations on a map,
– generate and submit custom-looking PDF and Excel inventory reports,
– sync data across multiple devices,
– upload the completed forms to cloud drives.
Warehouse Inventory & Shipment app is not just a way to get rid of paper. It provides efficiency, speed, reliability, accuracy, and cost savings. More organized inventories contribute to more stable work of the entire warehouse. The app is available in Apple App Store, as well as in Google Play.
Why you should consider app customization
Talking about meeting specific requirements, Snappii really means it. We are ready to customize the Warehouse Inventory & Shipment app for you. "The whole Snappii team is top-notch in customer service," says Jason Conn from ATCi. It is important for us to take into account and fulfill all your needs. Snappii support team will discuss all details with you and provide a free quote. Don't settle for less and join successful Snappii's customers to get more benefits and rise to the next level. Also, the good news is that app customization is more affordable than creating an app from scratch. You will save a lot of money and time and get a great product.