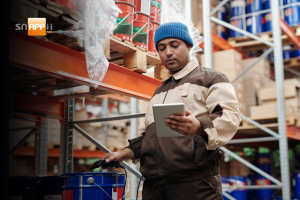 Warehouse management is a critical part of any business that deals in physical goods. In the past, warehouse management was a complex and time-consuming task that required a dedicated team of workers to keep track of inventory, orders, and shipments.
Today, mobile apps are changing the way warehouses are managed. With a mobile app for your warehouse, you can track inventory, manage orders, and ship products all from your phone. This makes warehouse management simpler and more efficient than ever before.
There are a number of different mobile apps for warehouse management on the market today. Here are a few of the most popular features they include:
Inventory management: keep track of what products are in stock and where they are located within your warehouse with an inventory management app. This can help you avoid overstocking or running out of popular items.
Order management: mobile apps can also help you keep track of customer orders and ensure that they are fulfilled promptly and accurately. This can help improve customer satisfaction and loyalty.
Shipping management: use warehouse management mobile app to streamline the process of getting products out the door and onto trucks or planes headed for their destination. This can save you time and money by ensuring that shipments are properly coordinated.
Snappii has created its Warehouse Inventory & Shipment app to help warehouse managers successfully deal with these tasks.
Warehouse Inventory & Shipment app is designed for warehouse keepers to perform a lot of different operations by using tablets and smartphones. Being equipped with bar code scanner and photo capturing, will help you collect required details in seconds and add them to your database for future reference.
This app will allow you to:
– make warehouse inventories in minutes
– create supply records
– track goods that are shipped in and shipped out
– make quick pick lists
– save captured information
– sync data across multiple devices
– bar code scanner
– take pictures
– show locations on a map
– get custom looking PDF and Excel reports
– share reports via email and upload to cloud drives
The Warehouse Management and Shipment app is available for free download from Apple and Google stores. Watch how the app works here.
The Warehouse Inventory & Shipment app is 100% customizable to your specific business needs. Simply drop us a line here and let's discuss your requirements.