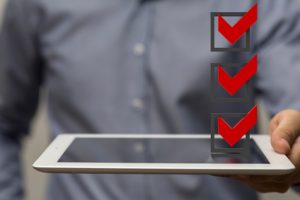 Today mobile solutions have become an increasingly popular method of data collection. This demand rises due to convenient mobile forms being right on a mobile device and an opportunity to fill them out anywhere. The main benefit is that these mobile forms can save hours of travel and tedious data entry and accelerate the workflow. However let's consider other advantages which mobile forms can offer to optimize the modern business.
Reduction of operational costs
Mobile forms usage can help your business reduce costs. You don't need to spend money on driving to the office to deliver the data. Paperless process allows you to save the environment, extra money on paper, stationery and storage spaces.
Better organization of work with data
Make your data cleaner and eliminate typos and other manual data entry errors. Also mobile forms are available 24/7 and can be conveniently stored in the digital format at any mobile device. You will not miss your documentation and will legally protect your company.
More portability for work in the field
Mobile forms provide more portability to the field specialists. Laptops are bulky and need special programs and applications, which can be rather hard for non-technical people. Mobile forms are such simple in use as the paper ones and are available for any employee with no special skills in technologies.
Fast professional reporting
Mobile forms allow you to collect higher quality field data including photos, signatures, locations, audio and video files. This information can be used to complete larger reports and contribute to the optimization of work. Employees are in constant communication and can instantly sync data.
Mobile forms ensure generation of the reports at your mobile devices. Business app development companies like Snappii offer full-fledged form apps for processing, analyzing the data, creation of professional reports and their sending via email or any other way.
The unique feature: digitize your existing forms in a few clicks
There is one more advantage only from Snappii. Snappii provides its users a unique solution to convert their existing PDF forms into digital format. You can continue to utilize your customary forms right at your smartphone or tablet. It's such a simple process that anyone can do it in a few clicks without special skills and efforts.
More effective management
Making the step to mobile data collection can open up a world of more effective management. Mobile forms provide the opportunity to constant track the work and make the right decisions in time. For example, mobile forms are actively used as daily logs and reports. Employees instantly fill in the necessary data about their work and share it, and this leads to better operation of the whole company and its optimization.
Raise the efficiency of your work with Snappii
Implement mobile forms in your business and you will reveal even more benefits. Snappii team is always pleased to help with creation of mobile forms and form apps. Just send us your files, requirements and any comments and make the most of the modern mobile features. Let's make a step into a more productive future.