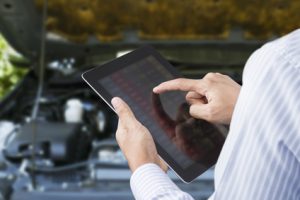 Does your business work with vehicles? Even if it is small fleet, you need to maintain your vehicles in the proper conditions. Constant vehicle and fleet inspections keep your drivers and other employees safe and make your business more profitable. However, such inspections require stepping out from the office and working with on-site data. Thanks to the modern mobile solutions, you can make it easier, free your inspectors and other specialists from painstaking paperwork and allow them to collect the data and generate the reports right in the field.
Streamline your vehicle inspections and generate accurate data with vehicle inspection app
Snappii, a leading mobile business apps company, offers the innovative mobile Vehicle Inspection app that provides the ability to quickly, correctly and accurately inspect the vehicles in the field. With this app, the drivers can be sure in the vehicles and their safety before taking to the road. Also, it will legally protect the company and help manage the documentation. Vehicle Inspection and Maintenance app is suitable for detailed inspections of various types of vehicles including heavy and not heavy ones. It allows inspectors to:
– inspect both exterior and interior of vehicles and check all functional parts,
– collect inspector's information and dates,
– calculate mileage covered,
– report breakings to mechanics,
– take or upload pictures to report and prove issues,
– work offline.
Snappii's vehicle inspection app is extremely user friendly and 100% customizable. You can use your own PDFs or order some modifications in the app.
Increase your fleet efficiency with fleet management app
Mobile fleet management apps give you real-time information on the whereabouts of your fleet drivers and allow you to schedule their work and track the goods. Gain visibility into all of your fleet data with Fleet Management app from Snappii. The app is designed for both drivers and managers to improve workflow. Managers can quickly view the current status of every vehicle, assign tasks and track their fulfilment. Fleet Management app will help reduce extra operational costs, increase fuel efficiency and improve route planning. Drivers can get clear tasks and instantly generate daily reports. Fleet Management app also works offline and can be 100% re-designed and customized by Snappii. Find more powerful apps for vehicle and fleet inspection and management in the Snappii gallery.
It's time to change your workflow
The future of fleet and vehicle management is in your smartphones and tablets. Paper and pen are not the golden standard anymore for inspections, reports and data collection. Snappii offers the switch to digital in as little as a few weeks. We can create a completely custom app according to your specific requirements. Snappii is the only company that can deliver a free quote in less than 24 hours, and have a working prototype in your hands in about a week. Snappii revolutionizes the process of app development by making it completely accessible and extremely fast. It's time to change your business and achieve more success with powerful mobile solutions.